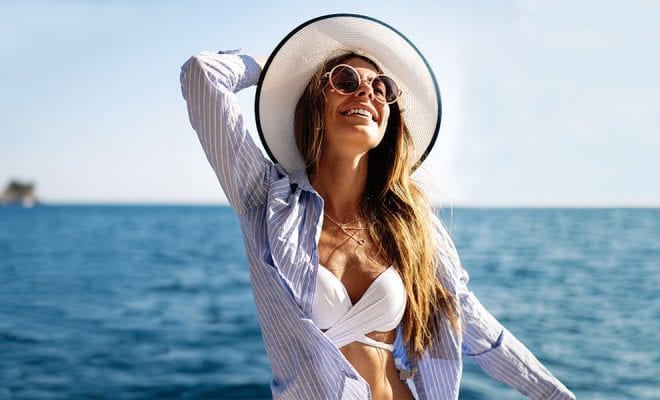 Lifestyle
Tips & Tricks for Skin and Hair Care During Winter Weather
By
|
Ah, the joy of winter. Holiday cheer, twinkle lights strung across lamp posts, warm sweaters and cozy nights. All well and good. However, one dreaded factor of this cooler time of year is the lack of moisture in the air. You may find that your hair is frizzy and coarse like horsehair, your lips will chap, and your skin might dry up like a reptile. This can all be avoided with a few simple tips and tricks! We checked in with a couple of experts around the neighborhood and here's what they have to say.
There are several daily and simple things people can do to take care of your skin. You don't even need to leave your home to achieve smoother skin. A few go-to's I always suggest is number one, use a good sunscreen. Even though the winter tends to bring more clouds, that doesn't mean your skin is shaded from the sun. I recommend a physical blocker SPF over 30. Both Zinc and Titanium are a go-to. A favorite of mine is Elta MD Skincare products. They do wonders for your skin.
Invest in a good antioxidant and a good moisturizer and stay away from alcohol or anything that dehydrates your skin like harsh astringents.
Hydrate, hydrate, hydrate. It's all about adding electrolytes. If you prefer drinking coconut water over basic water, go for it. The more you drink, the more hydrated your skin will be – regardless of the type of electrolytes you consume.
Pro Tip: Restore is offering special before holiday parties. For $849, clients can get 20 units of Botox, dermal infusion specialized facial and one syringe of Juvéderm ultra plus. Check it out here.
Hair Care: Walter Kenneth O'Dowd, Owner of Brick & Mason Salon
The biggest thing I tell my clients is to not over wash when they complain about dry hair. Wash only every other day. If you must wash every day, only scrub the scalp with shampoo. Using shampoo on the lower ends of the hair will cause excessive drying and can be easily avoided
Definitely invest in a good leave-in conditioner. My favorite is Untangled by Kevin Murphy and U Oil by Unite. These products moisturize dry hair and keep your locks soft and silky throughout the day.
U Oil by Unite is also awesome. Just a dime size amount will give weightless moisture and instant shine. This is good to use especially if your styling your hair with flat irons or blow-drying by protecting from heat damage.
Pro Tip: First-time clients will receive a complimentary haircut with any color service (a $75 value).
With these skin and hair care tips, you're well on your way to great skin and hair care during cooler months. Combine it with some solid nutritional intake by eating fruits and staying away from caffeine and alcohol. Hydration – a hell of a thing.