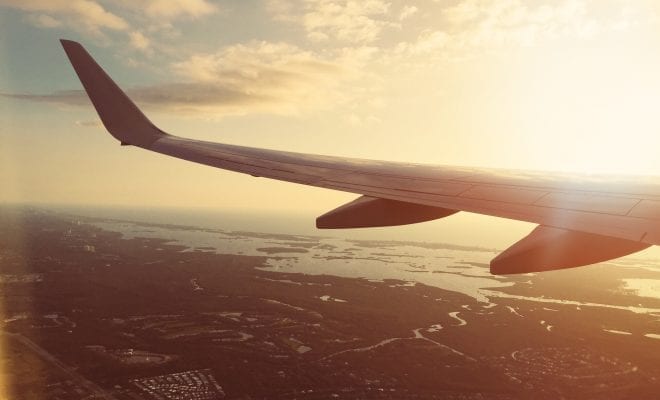 Lifestyle
Travel Segment: A 'Blonde Wandering' Comes to San Diego
By
|
San Diego Entertainer is proud to announce a new travel segment, coming soon! SD Entertainer's latest video series called 'A Blonde Wandering' will follow Instagram personality Blonde Wandering (@blondewandering), also known as Vanessa or 'Vee' to her friends,  as she travels the world.
Vanessa is a flight attendant based in London, who has a love for travel (and California). Hailing from a small town in beautiful Ireland, Vanessa spent a summer in California on a student J1 Visa program. She proclaims that this marked the beginning of her "wanderlust", and soon after she decided to travel for work. She now works as a flight attendant for one of the world's leading airlines. She has flown to all corners of the globe, wandering and blogging about her experiences.
She has taken part in so many adventures, from climbing Mount Fuji in Japan to visiting Christ the Redeemer in Rio De Janerio and climbing the Sydney Harbor Bridge. Slowly but surely she began to tick some truly amazing places off her ever-growing bucket list.
"I wanted to see the world, I wanted to experience different cultures firsthand." – Vanessa
Vanessa, aka A Blonde Wandering, continues to work and travel, and we are proud to announce that the Entertainer will follow her in her journey, starting right here in San Diego. This Irish Blonde Wandering will be wandering through America's Finest City on St. Patrick's Day, and E&L TV will be right along side. Tune in next week to see what shenanigans A Blonde Wandering can get into next. And continue to check back as we continue to follow A Blonde Wandering around the world.

Before she gets to San Diego and begins her journey in the San Diego Entertainer's newest travel segment, we had a chance to sit with Vee and get to know her a bit better. She discussed her favorite destinations from her numerous travels and aspirations for the future, from the interview below, you will understand this Blonde Wandering follows her dreams, no matter where they take her in the world.
Interview with the Blonde Wandering
Q: What is your favorite place you've ever been?
A: This is always the first question people ask me when they find out what I do and every time my answer is California. The first time I touched down here was back in 2009 as a student. I spent a summer in Santa Barbara and have been in love with Cali ever since.
Q: If you weren't a flight attendant what would you be doing?
A: I'm not even really sure, to be honest, I always wanted to get into media and journalism, but I also wanted to be a teacher. These are two totally different career paths. I think it's difficult to choose something you want to do for the rest of your life when you're young.
Q: What is your favorite meal to eat at home?
A: I love any home cooked meal, it makes such a nice change from always eating out or on airplanes while traveling.
Q: What is your favorite meal you've had while traveling?
A: Oh my God tacos, all day long. I would literally eat them for breakfast, lunch, and dinner while I'm in California. We don't have tacos like you do in the U.S., especially in San Diego. Battered fish tacos are my absolute favorite.
I also love a good curry when I'm abroad too. The best and hottest curry I've had was a Katsu Curry in Tokyo, Japan probably.
Q: What is the first thing you do when you go to a new place?
A: The first thing I do when I get to my hotel is put my bags down, connect to the Wifi, uniform off, and put the shower on. Depending where I am or what time of day it is, I will most likely head out for dinner and order a well-deserved glass or two of wine.
Q: What is the first thing you do when you get home?
A: I see my family, turn on a movie and usually nap a lot. Landing day is always a "chill day," as we call it.
Q: Do you prefer warm or cold weather?
A: Oh definitely warm weather, I love the sun. In saying that though, I've always wanted to go skiing and Aspen, Colorado is on my bucket list.
Q: What is your favorite tourist activity?
A: I love doing anything touristy, especially when I land in a new destination. I'm lucky I've had a chance to do some amazing things like climbing Mount Fuji in Japan, going on an African safari in Kenya and climbing the Sydney Harbor bridge. My favorite part of traveling though is socializing and meeting the locals, especially here in San Diego. You'll always find me on a night out in the Gaslamp Quarter when I visit.
Q: What is the best part of your job?
A: Well aside from the obvious that is traveling, it's the people. Whether it's the friendships I make at work or the people I meet when I'm away; I've made the most amazing friends and some great connections all over the world.
Q: What is your least favorite place you've been to? Why?
A: I don't really have a least favorite place as such because I feel everywhere you go teaches you something new and broadens your mind. I try to embrace different cultures wherever I can. When it comes to my least favorite timezone, I probably find it harder to readjust after a trip to the far east rather than going west. I find it easier to go back a few hours than to land hours ahead.
Q: What is your favorite airport/least favorite airport?
A: Oh that's a hard one, I've never really thought about a favorite or least favorite airport. I suppose I love my Irish airports because they're generally small and easy to get around. But then I'm also biased to choose London Heathrow because I know it like the back of my hand. I suppose my least favorite airports are the ones I'm not familiar with.
Q: If you could only bring three things on your next trip, what would they be?
A: Oh wow, only three things… I usually have at least three cases and a handbag. But If I had to narrow it down though I think it would have to be my makeup, of course, my hair straighteners and my laptop for Netflix and writing of course.
Q: What's your favorite drink?
A: White wine or Prosecco and when it's not alcoholic, I'd have to say Diet Coke.
Q: What advice would you give someone that wants to travel the world?
A: 100% go for it, best decision I've ever made. I just graduated from university when I made my mind made up that I wanted to travel the world. I didn't know how I could ever make it work. Since I was a student, I didn't have the money to just get up and go. So, I found a way to combine work and travel and I've been wandering ever since.
This travel writer is always on the go, whether it is on a new expedition or in the air. San Diego Entertainer is excited to follow her compass along the way and we can't wait for you to hear about her adventures. Stay tuned for updates about her travels, video segments, and more. Be sure to follow the show at @ablondewandering on Instagram.