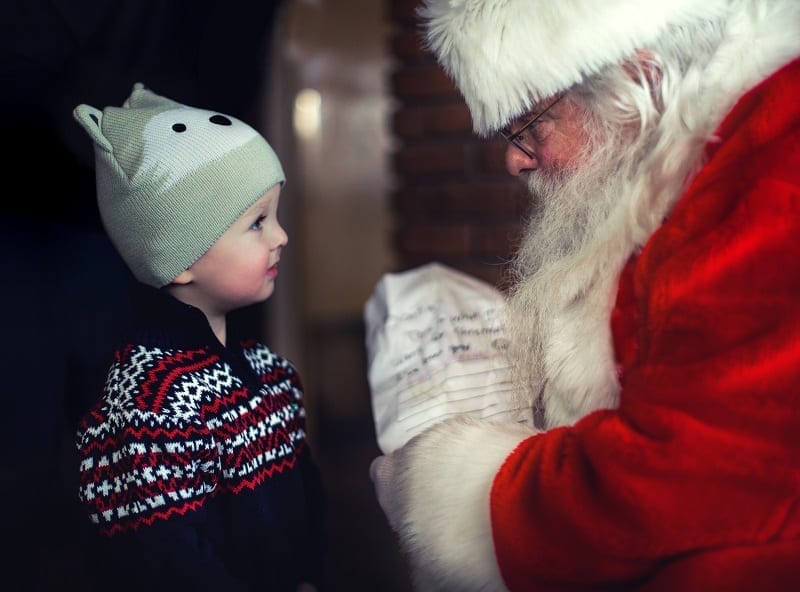 Lifestyle
This Weekend in San Diego: Santa, Giving Back, Family Traditions, Ugly Sweater Parties and more!
By
|
Well it's finally amongst us everyone! Christmas hits us this weekend and you better check your list twice to see who's been naughty or nice!
The rain has been welcoming in making San Diego feel like somewhat of a winter minus the holiday traffic since most Californians can't drive in the conditions. There's something about cold weather around the holidays that make it feel more magical.
This weekend and the holidays seem to come and go so quickly so remember to enjoy your friends & families in the moment and take the time to actually ENJOY them! Gotta love kids enthusiasm and spirt when it comes to the holidays!
Santa Is Coming
I don't know about you but I am guilty of being a last minute shopper with work, life, kids, endless parties, and all its hard to find the time to shop for friends and family. Honestly even though it is crazy out there waiting is sometimes better with all the last minute sales you can benefit from, plus Santa is there to Entertain the kids.  Amazon  is my go to shop for my family and friends so be sure to check out their Holiday Delivery schedule for last minute shopping! Ho Ho Ho!
Giving Back This Holiday
Brunch Club is an amazing selfless non-profit that has a great event happening tomorrow December 23rd called the 3rd Annual Holiday Meal & Outreach which will be providing a full holiday meal, services, gifts, kindness and more to the veterans, men and women of San Diego transitioning out of homelessness. So if you're feeling compelled to do some good and also want to have fun while you're doing it? I suggest you grab some friends and come on down tomorrow for a good cause! This will surely get you on the nice list!
Friday December 23, 2016
From: 4pm to 9pm
Where: Island Village Apartments
1245 Market Street, San Diego, CA 92101
 Those Family Traditions
One thing that I always remember and have since carried on the tradition is checking out the Christmas lights with my family on a street called Pepper Drive located in El Cajon, back in the day this place put on the best lights in all the land. We would grab hot cocoa and drive around the cute neighborhood singing Christmas carols (or attempting to sing)! Now the new and improved place to check out is Starlight Circle located in Santee, Ca. Grab the kids and check this winter wonderland out, which has got so big it even has a freshly made popcorn station, hot cider and hot cocoa station, pictures with Santa station, gifts, and more! Carry on your own traditions and enjoy!
Dust Off Your Ugliest X-mas Sweater
'Tis the season to be jolly and bust out that amazingly awkward ugly sweater you have hanging up in your closet from last year's festivities. This is just fun all around. Friends and family getting together in what has sort of become a sweater competition to see who has the most festive and creative sweaters. It is always a good idea to bring something to the party so here is a quick recipe to make yours and your friends night that much more fun!
Sparkling Jello Shots recipe brought to you by: This Silly Girl's Kitchen !
Ingredients
 1 6 oz. Jell-O package (any flavor you wish, I used raspberry here!)
2 Cups boiling water
2 Cups Welch's Sparkling White Grape Juice Cocktail
Cooking Spray, non-flavored
Sprinkles
Instructions
Spray a medium sized casserole dish with cooking spray and set aside.
Boil water and take off heat. Add packet of Jell-O and whisk until it is dissolved. Add the Welch's Sparkling White Grape Juice Cocktail, make sure this is chilled it is important! Stir once to combine.
Pour Jell-O mixture into dish. Cover with plastic wrap and let sit in fridge overnight.
When ready to cut into squares, take a butter knife and run it along the edges of the dish. Turn this out onto a cutting board or platter.
Cut into desired shapes, you can even use cookie cutters!
Lay them on a platter and top with sprinkles, serve and enjoy!
Hope you have enjoyed these tips, suggestions, personal experiences, and wishing you all a safe and Happy Holiday!
Cheers to you all and to all a Goodnight!