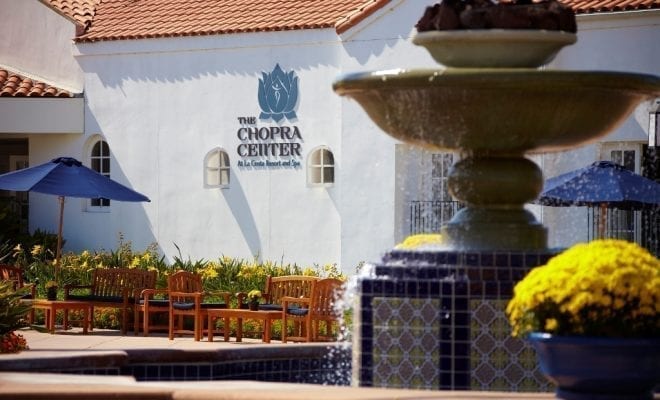 Lifestyle
The Luxurious Health Getaway You've Been Searching For is Right Here in San Diego
By
|
In San Diego, every day can feel like a "staycation," but if you're interested in taking your health and well being to the next level, the Chopra Center's all-inclusive luxury spa is just a short drive away. Located at the Omni La Costa Resort and Spa in Carlsbad and founded in 1996 by Deepak Chopra, M.D. and David Simon, M.D., the Chopra Center is San Diego's best kept secret as a source for education, teacher training's, products and transformational experiences that improve the health and well-being of body, mind and spirit.
Nestled in the lush and beautiful North County San Diego, the Chopra Center's natural beauty and a tranquil atmosphere will soothe your body and mind. The luxury spa and endless amenities provide the ultimate sensory experience and the finest personalized treatments. Guests are welcome to get comfortable in between treatments and enjoy the scenic grounds or sip on herbal tea while perusing the library's collection of mind-body-spirit books. After indulging in one of the signature massages, guests can lounge by the pool, soak in the hot tub or sit in the purifying steam room or sauna. They can enjoy a nutritious meal from the Spa Café, read a book and relax by the indoor fireplace, or soak in the sunshine at a private pool and sunbathing gardens.
The Chopra Center's innovative treatments and Ayurveda based programs allow guests to explore alternative treatments and holistic practices safely and luxuriously. Based on centuries-old therapies that support balance and bliss in the body, mind and spirit, the Ayurvedic spa treatments are uniquely customized using specific oils, herbs and aromas chosen to provide the unique mind-body type with optimal rejuvenation and nourishment. Current treatments include:
Abhyanga (abee-yan-ga) – A friction-based choreographed massage utilizing warm dosha-specific herbalized oils.
Vishesh (vi-shesh) – A powerful tension-relieving treatment, this invigorating choreographed massage incorporates classic Abhyanga therapy with deeper strokes to clear and detoxify the channels of circulation.
Pizichilli (pitzi-chilli) – Gentle and continuous streams of warm, herbalized oils are rhythmically smoothed into the body to enhance circulation, eliminate toxins, and deeply purify.
Pinda Sweda – Using poultices of warm rice and herbs, two therapists deliver a soothing, rhythmic massage that is deeply nourishing to the skin, muscles bones and joints.
Odyssey Enlivening Therapy – A traditional Ayurvedic massage that combines five different techniques designed to balance all the systems of the body.
Shirodhara (shiro-dar-a) – The most meditative and relaxing treatment in which a soothing stream of warm oil is poured over the forehead and onto the sixth chakra, calming the central nervous system and integrating the mind and body.
Gandharva (gaan-darva)- Gandharva uses the transformational power of sound therapy to improve the flow of energy in your mind and body. Your healing arts master will take you on a divine journey interweaving nurturing touch and crystal singing bowls to awaken vitality and bliss.
Srota Clearing Therapy (shro-ta) – Srotas are the meridians or pathways through which the body carries nutrients, information, and intelligence. With direct and pressured strokes, the customized Srota clearing treatment opens the circulatory system and subtle energy channels to soothe and relax tight tissues.
Marma Therapy – Marmas are the junction points between body, mind, and emotions. Using oils specific to mind-body constitution, or dosha, this light circular touch stimulates the vital energy points for restoration and rejuvenation, awakening the inner healing system.
Oshadhi Treatment (o-saw-dee) – The Oshadhi encourages the release of toxins from your skin and clears congestion in the body.
Swedana (sway-da-na) – A powerful detoxifying treatment, the Swedana helps open circulatory channels, allowing toxins to be mobilized and eliminated through the sweat glands.
Breast Massage – One of the most effective and nourishing ways to maintain healthy breast tissue and musculature before potential issues arise.
People looking for the entire package can enroll in the Perfect Health Program, a 6- or 10-day healing immersion that combines a renowned medical staff, a time- tested detoxification and cleansing process known as panchakarma, and intimate, daily classes in meditation, yoga and Ayurveda.
The Chopra Center provides an integrative approach to total well-being through self-awareness, and the practice of yoga, meditation, and Ayurveda. All of The Chopra Center's treatments, whether group meditation or an extensive spa therapy, support a fully healthy being and with such a wide array of wellness programs and treatments, there's something for everyone.
You're invited to experience complete mind-body bliss at the Chopra Center. To book your next appointment, call (760) 494-1600. For more information, visit www.chopra.com.