Lifestyle
Meet Emilia Taneva: This Beauty with Brains is Taking Over Instagram
By
|
Emilia Taneva, a beautiful Bulgarian import, has managed to organically amass a whopping 655K+ Instagram followers at her handle @bubbly.moments in just a year and a half! Her luxury lifestyle blog by the same name is also exploding, leading major corporate sponsors from Clinique and Olay, to Pantene, Macy's and FabFitFun to line up to work with her. Turning her passion for travel into her own cottage industry, Taneva has circled the globe in rarefied luxury, chronicling her adventures draped in the latest fashion and accessories. What's more impressive, is that she has managed to accomplish this in parallel to a thriving career as an orthodontist.
Taneva moved to the United States to get her orthodontics degree from the University of Illinois at Chicago. Along the way, she fell deeply in love with her now husband, and her brand Bubbly Moments was born out of the pair's penchant for romantic globetrotting.
In this interview, Emilia Taneva shares her story and her well-honed tips for achieving superstar blogger and social media status.
Allison Kugel: When you got your student visa to come to the states to study dentistry, had you also set your sites on being an entrepreneur and social media influencer, or did that come after?
Emilia Taneva: That came later on. I moved to Chicago to study orthodontics. I was already a dentist in my native, Bulgaria. The social media part came three years ago after traveling with my husband and accumulating a lot of content. I saw other people blogging and I realized that I could turn my travels into a brand. At the time I was following a few bloggers, namely, @nomadicmatt and @theblondeabroad, and a financial blogger @thewhitecoatinvestor. I focused on building my website first and then came Instagram and the rest of the social media channels.
AK: How did you put your team together to build and optimize your blog, BubblyMoments.com?
ET: I have website design experience going back many years, so I was able to do everything myself. I've built other websites in the past, and I love the technical part of working on my website. I studied, I Googled and I read a lot of manuals about SEO. It's a field that is changing constantly, so I am always brushing up on the latest trends and methods.
AK: People want to know how you managed to grow your Instagram following to over 650K followers in such a short period of time. What's your secret?
ET: It's important to have a niche when you are first building your following. Figure out what you are passionate about. Is it beauty, fashion, food, travel? You need to invest a great deal of time. I spend 4 or 5 hours per day just reviewing photos that are going to be published on social media. I also invested in personal finances to build this brand. Just like any other business, if you want it to be successful, you have to treat it like a business and put in the time.
AK: Instagram seems to be your main stage. Is that true?
ET: It's never a good idea to put all your eggs in one basket. Focus on Twitter, Facebook, Pinterest, and your own website; not just Instagram. Try to publish equally engaging content on all of your platforms. I spend a lot of time on Pinterest as well. It's a completely different platform. The content that is being published on Pinterest requires different image sizing and lots of overlaid text. I use Pinterest quite a bit to drive traffic to my website.
AK: How do you keep your engagement so high? Do you have any trade secrets you'd like to share?
ET: Well, different images get different engagement; whether it is travel, fashion or food. Different times of the day when people are more or less active makes a difference as well. You have to experiment with this formula. I try to engage back with my followers as much as possible. I go to their profiles, look at their pictures and reply to their comments. Engaging back is important.
AK: You have some impressive sponsors, including Clinique, Olay, Macy's Jared Jewelry and others. How did you land your first corporate sponsor, and what do you think it was about your brand that attracted them to you?
ET: My very first sponsorship was a gifted product that came from a clothing line in the UK. There are many platforms for social media influencers and bloggers that connect influencers with compatible brands. The brand wants to make sure you will be a good representative for their product. I have gotten my sponsorships either directly or through one of these influencer platforms. What brands tell me they like about my images are my use of bright colors and the places I've traveled. They like the idea of their brand being associated with these beautiful and exotic locations. They will ask me where I am going next and choose for me to promote their product or service against the backdrop of that specific locale.
AK: In addition to your strong social media presence, you are a successful orthodontist, which you also incorporate into your blog and your social media posts. How do you see the two working together?
ET: I keep separate schedules for my orthodontic practice and Bubbly Moments. Different days of the week are being dedicated to one or the other. People go through different life stages, and my husband and I would love to have kids one day and expand our family. At some point, I might start covering parenting and financial topics besides travel, dentistry, and orthodontics.
AK: You have traveled to so many places around the globe. What destination has been your favorite, and why?
ET: I really love Hawaii. It's one of my favorite destinations. It's so easy to get from one island to the other. Each island has a different vibe, unique experiences, and an amazing beauty. Maui and Kauai are more calming and relaxing. Oahu is more populated. If you are looking for more buzz and excitement, you can always jump over to Honolulu and Waikiki Beach. The best part is you're not leaving the states, so it's the same currency, same phone network. It's tropical, tranquil, and convenient at the same time.
AK: People can now shop your lifestyle at your blog, Bubbly Moments. How do you choose what kinds of products to promote to your readers and followers?
ET: I need to believe in the product. I am either familiar with the product before I promote it or I use it for a few weeks before giving any recommendation. Now that summer is coming, I am focused more on summer content: outfits, accessories, beach essentials, pool floaties. I am always looking for fun things to cover. And I do promote things that I just personally love and use myself. For example, right now I am obsessed with my new Amazon firestick, so I was recently sharing that in my IG stories. Much of my content is completely organic and me sharing what I am loving at that moment.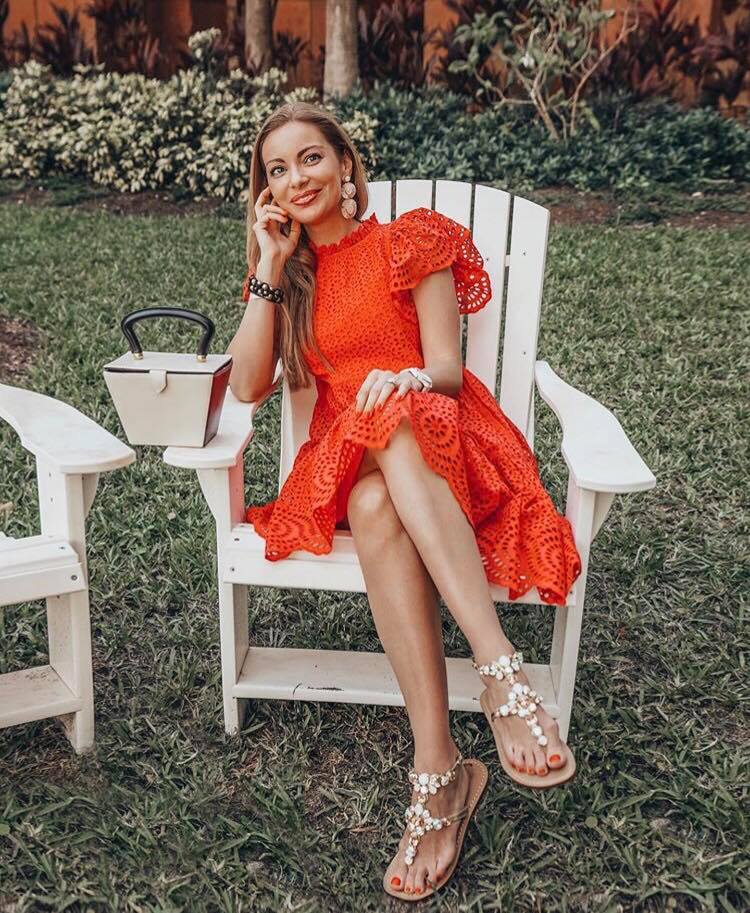 ---
Follow Emilia Taneva's "Bubbly" adventures at her blog BubblyMoments.com, and follow her on Instagram @Bubbly.Moments