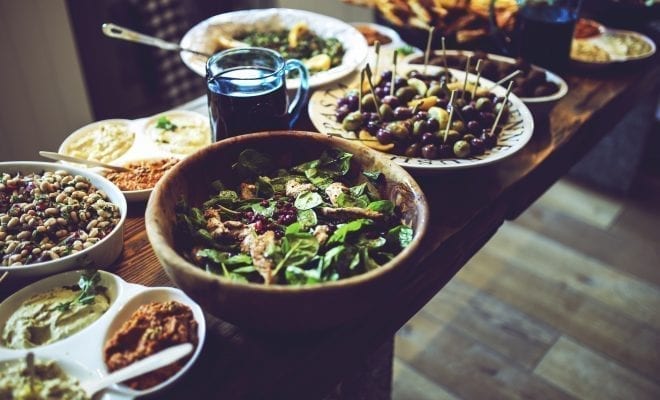 Lifestyle
How to Create a "Friends-giving"
By
|
The month of November is filled with family time and the weather starting to become crisp. The big celebration in November, Thanksgiving, is a day filled with friends, family, and piles of endless food. Sometimes it may be hard to get together with friends on this holiday, especially since mostly everyone is with family. Start a tradition with your friends, roommates, or co-workers, of creating a "Friends-giving". Make it a potluck and have everyone bring a special dish, and come together to celebrate each other and the friendships that you have formed. Here are some of the best ways to celebrate your new tradition, and a few guidelines to keep in mind.
First of all, the host should provide the main course. If you are deciding to take the planning role, then act like a leader and be ready to provide the juicy and delicious turkey. Be prepared to be organized and have people sign up for what to bring. Make a list of what you will need, such as cranberry sauce, potatoes, yams, etc. The best part about being the leader, is that you're are in charge of what is being brought. Send the list out in an e-vite and have everyone 
sign up, so that no one brings the same thing. This will allow your guests to indulge in a variety of foods, in an organized manner. Another great idea is to have everyone bring a bottle of wine, or beer. This way everyone can have different choices of beverages, and try new things.
Make sure to create little appetizers as well, and use your imagination as to what you want to create. Sure, Thanksgiving is filled with yams, potatoes, cranberry sauce, and turkey, but what else can you add? Add a delicious stuffing made from scratch, or add a personal touch to the usual items. You can add marshmallows to your yams to make them even sweeter, or you can create a festive dessert, showing off your creativity. Friends-giving is the perfect opportunity to test out your creativity, and hosting skills.
Another great idea to show off your festive host skills, is to provide a little goodie bag for all your friends to show how thankful you are for them. Whether you put little candies or cute festive candles inside a bag, your friends will appreciate the gesture. Make sure to also provide entertainment, because it wouldn't be Thanksgiving with the "What are you most thankful for?" games. Enjoy games and fun activities while your turkey is baking, and your friends can catch up with each other during this special celebration. The best part about having a Thanksgiving with all your friends, is that it's a special time to appreciate the people that you love. Sometimes it may be hard to get all your friends in the same place to be together, but this little get together is the perfect opportunity to spread the love, and to create new memories and traditions with your best friends.