Lifestyle
Fit San Diego: A Guide to Outdoor Fitness
By
|
Many come to San Diego for the beaches, some for the breweries, and some for the great Mexican food. Whatever is on the itinerary for those who visit, undoubtedly, they can pack for mild weather. This is true almost all year round. Because it's so gorgeous outside, we San Diegans are lucky to enjoy many outdoor activities. This definitely contributes to why we are a pretty "fit" city as a whole. Whether you are a native or expect to visit, San Diego is sure to have a perfect activity right up your alley that will keep you engaged and maybe even cause you to break a sweat.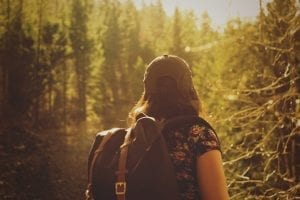 Hiking is a personal favorite. It allows me to get outdoors after many hours of working inside. It's a little quieter, allows me to see all of nature's beauty, and it's never the same. When you are on a treadmill, you can expect a constant pace and even incline. In the great outdoors, each rock you hop over requires your body to use different muscles. This is the most enjoyable part. You don't even realize you are getting a good work out because you are so busy looking at flowers and trees and enjoying the breeze. Some of the local favorite spots to hike in San Diego include Mt. Woodson (you can come in from the Lake Poway side or the Ramona Hwy. 67 side), Iron Mountain, Cowles Mountain, Torrey Pines State Park, Mission Trails Regional Park-Oak Canyon Trail, and more.
One of the hottest fitness options that both residents and travelers have flocked to is hot yoga. While there are several types of yoga that teach slightly different techniques, one of the most popular brands is CorePower. There are several reasons why folks love CorePower. For one, they are a nationwide organization making it possible to keep to your routine when traveling. Also, at CorePower there are ranges of classes catering to beginners all the way up to yogi superstars. Adding in the heat definitely ramps up the intensity; an hour devoted to fitness well spent. You can also opt to take a class at CorePower without heat. The location in the Flower Hill shopping center in Del Mar is adorable with artsy décor inside and out. You will find giant hanging flowers in the promenade where you can take a seat to enjoy a craft coffee from Swell Coffee or a delicious meal from Flower Child or Whole Foods. If you have time, be sure to check out the shopping. From fabulous décor to fashionable attire, Flower Hill has it all.
To the very west, you will find the beach. Whether you like to swim, bike, skate, walk, or run, you are bound to find the perfect spot to get in a great workout with a spectacular view. Also, San Diego has some excellent dog beaches for your favorite four-legged friend to get a workout in as well. When looking for a good swim, go to Fletcher Cove in Solana Beach. It's perfect for families with little ones.
Many runners enjoy running at the beach in Del Mar, which is also where you can bring your dog. Be sure to check out leash guidelines, which can change throughout the year. Ocean Beach is also another popular dog beach.
Riding bikes or skating around the Mission Beach/Mission Bay area is a popular choice as well. Between the boardwalk and the extensive sidewalks, you can ride and ride while getting to know the city. Balboa Park is also a great place for walking, skating or riding. Speaking of Balboa Park, you can find tons of activities including frisbee golf; a fun group activity that will make your fitbit very happy.
When it comes to an active San Diego lifestyle, this personal trainer and outdoor enthusiast is a wealth of knowledge and incredibly motivating to those who are lucky enough to learn from her. Meet Kim Kelly. Coming from the east coast where it's much harder to maintain an outdoor routine due to the weather, Kim could appreciate the mild weather and what it meant from a fitness perspective. At twenty, she began working out at Gold's Gym in Pacific Beach. It was full of big strong people who meant business. This is where her love for fitness and strength training was born. She integrated fitness into everything. If she went for a walk, she may have been wearing ankle weights. She believed that you could do a squat or a plank just about anywhere, so she did. Kim took Pure Barre classes, yoga classes, pilates, and more. As she found bits and pieces that she felt were valuable, she took note and eventually integrated them all together to share with her clients as their personal trainer. Kim is well known within the fitness community, teaching classes at Yoga Six and also right on the beach. She trains individually or in a group setting. Kim's belief is that you should not only integrate movement into all that you do, but also workout multiple parts of your body at once for maximum results. If you are looking for a great training program, Kim Kelly Fit may be just what you need.
Be sure to soak in the quality of life that the San Diego environment offers, whether you are here for good or only for a short visit.
---
Jessie Marchese is a native San Diegan with love for health, wellness and good eats. See her lifestyle blog here: www.haveyourcakeandeat.com. She can be reached at jessieemily@gmail.com.SaveSave
SaveSave
SaveSave
SaveSave
SaveSave