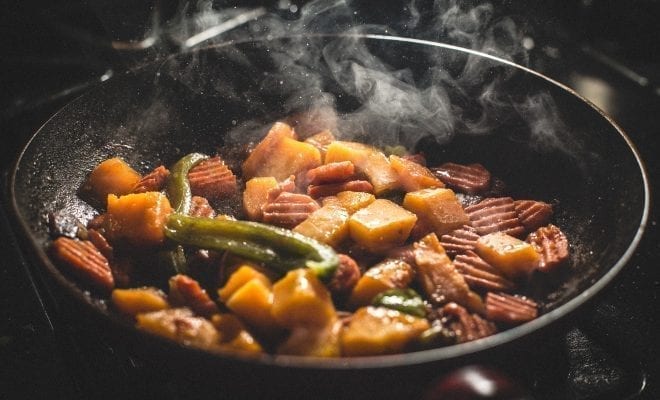 Lifestyle
Meals to make in under 15 Minutes for those busy nights
By
|
Some people use the excuse to eat out because they think they simply don't "have time" to make a meal for themselves. There are plenty of delicious and unique meals that only take under 15 minutes to make, saving you time and allowing you to not waste one minute in your busy schedule.
Try making a pasta with tomatoes and pine nuts on top. Purchase your favorite kind of pasta whether that be bow-tie, angel hair, or whole grain noodles. Start boiling the water and let this boil for 10 minutes with the noodles inside. While the noodles are cooking, start chopping your tomatoes and start cutting the pine nuts into smaller pieces. Once the pasta is done, put everything into a bowl and sprinkle some salt and olive oil on top for extra flavor.
If you want a meal with protein and a little touch of feta cheese, you can create Greek chicken cutlets. A big part of making meals in under 15 minutes too, is meal prepping your protein so that when it's time to eat it, you can simply warm it up and you're ready to do. For this meal, you'll need chicken; whether that be pre-made rotisserie chicken, or meal prepped chicken cutlets that you baked in the oven. Lay your prepared chicken on a plate, and cover it with feta cheese, mint leaves, tomatoes, and feta cheese. Top it off with olive oil and a touch of vinegar on top, and you'll have yourself a chicken dinner with a Greek touch.
If you are a salad fanatic, you can create a zesty shrimp salad. Salads are one of the easiest meals to make in a quick time frame, because you can put anything into a salad and be creative. For this particular salad you will need shrimp, lemon, avocado, tomatoes, feta cheese, and lime dressing. Start frying your shrimps and lay them face down for 4 minutes on each side. While your shrimps are cooking you can prepare the rest of the salad. Put your lettuce and other ingredients into your bowl, and add your shrimp once it's done. Spray some lemon juice onto your creation and add your delicious lime dressing for a fantastic and quick meal.
Wraps are another quick and easy meal that makes the perfect lunch for you at work or school. This is another meal that you can get creative with, and you can make it your own. For this particular wrap you'll need chicken, buffalo sauce, tortillas, cheese, and red bell peppers. Make your very own buffalo wrap in under 15 minutes and make everyone in your office jealous with your homemade meal. Use rotisserie chicken to save time for this recipe, and heat up your tortillas on the stove for 20 seconds on each side. Once your tortillas are heated, slab on the buffalo sauce, followed by laying down the chicken. Once the chicken is on the tortilla, add more buffalo sauce on top. After this, cut up your peppers and cook them on a skillet for 5 minutes. Once they are warmed up, throw them on top of the chicken, and your buffalo flavored wrap is ready to go. Before you close up your wrap, remember to sprinkle on pepper jack cheese for an extra kick.
If you enjoy wraps and burritos, try making the on the go burrito. You'll need black beans, salsa, chili powder, cheese, and tortillas. Put your beans, salsa, and chili powder into a bowl, and then throw it onto a skillet. Cook for 10 minutes while mixing and smashing all the ingredients together. While you are mixing, add lemon juice to the ingredients to add moisture. Once the mixture is complete and cooked, scoop out a spoonful and put it onto a warm tortilla followed by a sprinkle of cheese. These quick burritos are perfect for any time of the day and are endured to be delicious.
Cooking doesn't need to take you 2 hours, so try any of these tasty meals for a quick fix.