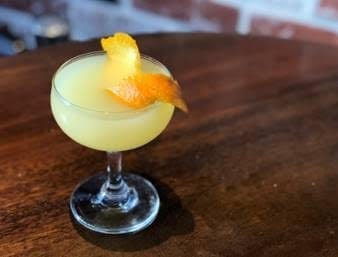 Dining
Celebrity chef reinvents Thanksgiving with recipes you can try at home
By
|
Thanksgiving is almost upon us. And that means many cooks, both professional and amateur in talent, will have to scurry around for their cookbooks, drudge out old recipes from the dark recesses of the cabinet and hurry to the nearest grocery store.
We all know that Thanksgiving can be very stressful, especially if you're the one in the kitchen. That's why we invest in ways to placate the "hangry" mouths with wholesome ingredients that will send them reeling to the nearest bed for recovery. And it often becomes necessary to conjure up ways to produce results in a short amount of time. In fact, a significant portion of families turn to the conventional strategy of using past recipes that have been carried down from past generations. But what about trying something new?
How can we make rich, wholesome food for the holidays without detracting from the original quality of the flavors and texture? The dual-answer is simple: Chef Javier Plascencia's recipes…and milk. Javier Plascencia is Tijuana-born chef who first explored cooking in his family's kitchen. He studied in culinary art schools in San Diego, and after graduation he worked in a myriad of hotels and restaurants in the area, before traveling the world, tasting and exploring every place he visited. He has appeared in publications such as Gourmet Magazine, Food & Wine, San Diego Magazine, GQ México, the New York Times, Los Angeles Times, The New Yorker and the Washington Post, along with various radio and television shows in Mexico and the U.S. such as No Reservations, with Chef Anthony Bourdain; Mexico, One Plate at a Time, with Chef Rick Bayless and Bizarre Foods, with Andrew Zimmerman.
Most recently he was recently recognized as Chef of the Year by the site Eater San Diego and his restaurants were among the 100 best in Latin America by The Daily Meal. He is the current chef and owner of Bracero Cocina de Raíz in Little Italy.
This highly touted San Diego chef has recently introduced several dishes that combine traditional ingredients with creativity. They are perfect for anyone to cook and don't take a ton of time. These modern recipes are inspired by traditional dishes and seasonal flavors we all love.
The plate is called Panqué with Roasted Sweet Potato and Spiced Honey Sugar with an addition of Marzipan-infused milk. This creation cooks in a little over an hour and makes anywhere from six to eight servings. Get the recipe here.
"My grandmother would always make sweet potatoes for Christmas, and the dish I created was influenced by her recipe that has been a family staple for so many years," said Plascencia.
After using Plascencia's recipes, it can be safe to assume that your culinary prestige will be bolstered. In addition to heading up numerous restaurant locations in Southern and Baja California, he has cooked for celebrities and influential icons alike, including: Arnold Schwarzenegger, Mexico's ex-Presidents Vicente Fox and Felipe Calderon Hinojosa, as well as other influential celebrities along with political figures. He has also appeared in a lengthy amount of publications from the New York Times to Food & Wine Magazine.
His cooking prowess can easily be used for your own cooking challenge with the next dish: Turkey with Mushrooms and Marsala Wine Gravy. This also makes six to eight servings along with a cooking time of under an hour. Get the recipe here.
Rounding out the list is a recipe for Plantain and Pork Belly Taco-crepe with Peanut-infused Milk. This is definitely not your traditional Thanksgiving fare, but it will definitely impress if you want to try to do something different. Get the recipe here.
Yes, we know and sympathize with the surfeit amount of stress that goes hand-in-hand with Thanksgiving. Therefore, it is our hope that these dishes give you a seamless, expedited and refreshing cooking experience with your family and friends.