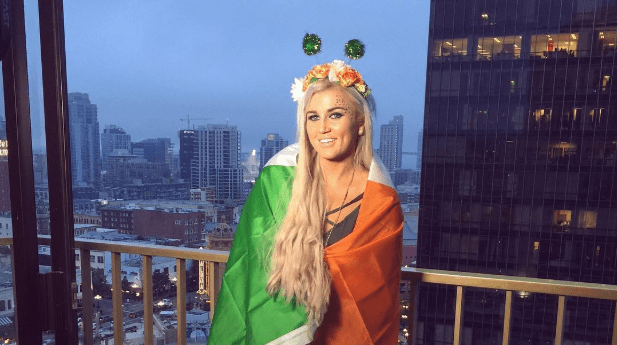 E&L TV
A Blonde Wandering Takes on St. Patrick's Day in San Diego
By
|
St. Patrick's Day is an Irish celebration held every year on March 17th. What started as a religious celebration, quickly turned into one of the wildest party days of the year. Good ol' St. Paddy's Day was last week, and our E&L TV team was able to attend San Diego's biggest celebration of the Irish holiday in the Gaslamp Quarter–ShamROCK. Along for the ride was the Entertainer's latest video host and Instagram personality, "A Blonde Wandering" also knowns as Vanessa, or Vee (@blondewandering).  It's only right that A Blonde Wandering, attended one of San Diego's largest Irish events, beings that she is from a small town in Ireland.
Vanessa was able to dive into her Irish antics on St. Patrick's Day at the 23rd annual ShamROCK festival. Drinking Green Beer, listening to the best Irish bands San Diego has to offer, and partying the night away, Vee was able to give San Diego a taste of what Ireland really has to offer.
Vanessa continues to work and travel, and we are  excited for the Entertainer will follow her in her next adventure. This Irish Blonde Wandering traveled through America's Finest City on St. Patrick's Day, and E&L TV is excited to see what's next. Tune in to see what shenanigans A Blonde Wandering can get into next. And continue to check back as we continue to follow A Blonde Wandering around the world.
If you haven't heard, San Diego Entertainer recently announced our newest travel segment, and TV show in the making – A Blonde Wandering. Vanessa is from a small town in Ireland and feel in love with California, and travel in general, when she came to study on a student Visa. Today, Vanessa is a flight attendant based in London. Through work she has flown to all corners of the globe, wandering and blogging about her experiences. She has taken part in so many adventures, from climbing Mount Fuji in Japan to visiting Christ the Redeemer in Rio De Janerio and climbing the Sydney Harbor Bridge. Slowly but surely she began to tick some truly amazing places off her ever-growing bucket list. The latest bucket list item: St. Patty's Day in San Diego.
While she was here, she enjoyed the beauiful city, and of course, tacos.