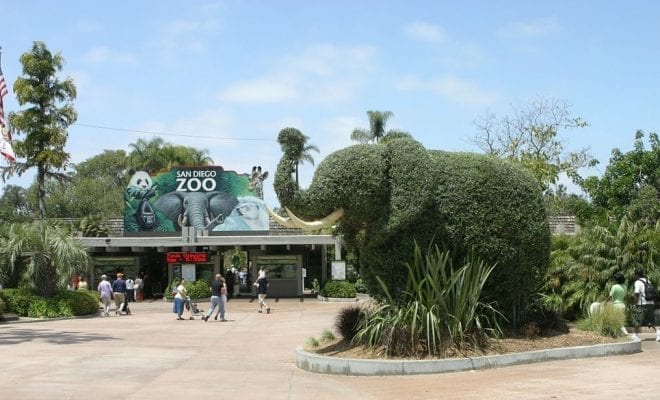 Photo from Cburnett via Wikimedia CC BY-SA 3.0
Lifestyle
5 Things Every Visitor Needs to Do in San Diego
By
|
If you're planning your first ever visit to the great city of San Diego, you would preferably want that visit to be an experience that you'll remember forever, right? If so, you'll be glad to hear that there is absolutely no shortage of fun things to do in San Diego and the surrounding area.
Here are the top five things to do in San Diego:
1) Tour The USS Midway
 San Diego has a rich military presence and the 972 foot long USS Midway aircraft carrier is one of the most popular tourist destinations in the city. The USS Midway was the longest serving carrier in the United States Navy during the 20th Century and is capable of carrying over four thousand people. It attracts thousands of tourists of all ages and demographics each year.
2) Take A Cruse In The Harbor
Considering the fact that San Diego is positioned along the Pacific coastline, it's only natural that water plays a natural role in the city and its tourist attractions. A Harbor Cruise in the bay of San Diego will give you awe inspiring views of the city, the Coronado Bridge, and the Pacific Fleet.
3) Step Into Balboa Park
Balboa Park is the most visited and well-known park in San Diego and is a photographer's heaven thanks to its beautiful historic buildings, fountains, and natural beauty from its scenic forests and gardens. At Balboa Park, you can ride your bike, see a play, or pay a visit to the San Diego Zoo. Speaking of which…
4) Pay A Visit To The San Diego Zoo
The San Diego Zoo is widely considered to be one of the best views in the United States, if not the world. Active since 1916, the zoo boasts an impressive array of animals from all over the world. And if even the Zoo isn't enough for you, you can also visit the San Diego Zoo Safari Park, which is spread out over 1,800 acres and will show you animals from South America, Africa, and Asia living and interacting in their natural environments.
5) Rent An RV
Yes, we said "rent an RV". While this isn't the most popular things for tourists to do, it's a great way to get to know the beauty of San Diego from another perspective. Few people think about going on an RV camping trip when visiting San Diego. Nonetheless, there are a multitude of excellent camping locations around the city that you definitely won't want to miss out on if you are a passionate and adventurous outdoors-man.
There's a reason why San Diego is one of the most popular tourist attractions in the United States. Actually, there are multiple reasons, as you can tell. Any one of the above attractions alone is sure to make your first or next visit to the southern Californian city a truly memorable experience.
By: Susan Melony