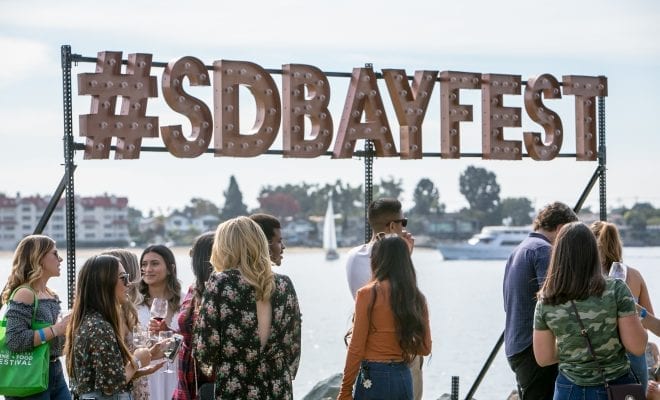 Entertainment & Events
Your Guide to San Diego Bay Wine + Food Festival: 8 Days of Fine Wine & Culinary Excellence
By
|
The country's highly anticipated week-long festival celebrating the very best in food, wine, and culture returns to America's Finest City on November 10-17 at the stunning Embarcadero Marina Park North. With the gorgeous San Diego Bay providing a breathtaking backdrop to the week's festivities, expect to have a truly unforgettable experience filled with endless libations and innovative culinary dishes. This year's festival hosts over 40 unique events happening around San Diego, each offering the latest trends in spirits, food pairings, and more. From informative seminars, discussion panels, cooking classes, sophisticated cocktail hours, elaborate dinners, and everything in between, here are the can't miss events of The San Diego Bay Wine + Food Festival.
Kicking off the festival is part 1 of the Expedition series, taking guests on a curated tour that ensures a unique and educational experience. On this San Diego Beer Tour, enjoy an immersive tour of one of the best craft beer scenes in the nation. Get an inside look at some of San Diego's top beer producers, chat with the knowledgeable staff, sample special brews, and receive VIP treatment as you learn the ins and outs of the craft beer industry. Tour stops include White Labs, Green Flash, and Gravity Heights. Transportation will be provided.
Celebrate Veteran's Day with barbecue and bourbon at the Coronado Island Marriott Resort & Spa during its 16th annual celebration. San Diego's hottest pitmasters will be firing up the grills and serving mouthwatering barbecue and a wide variety of excellent bourbon from 12 – 3 pm.
Chef Jason McLeod's culinary team will be preparing an unforgettable breakfast for dinner experience at Little Italy's Morning Glory. Enjoy Moët Champagne throughout the evening, craft cocktails, and three "Breakfast for Dinner" stations from 7-9:30 pm.
Don't miss your chance to experience hands-on pizza making lessons from one of the best Italian restaurants in San Diego. Learn how to make dough from scratch, select from a variety of fresh toppings, and create your handmade pizza masterpiece in the Italian hand-built wood-fired ovens. After, you can take home your unique hand-made pizza, an extra dough ball, and a "Buono Forchetta Certified Pizzaiolo" T-Shirt.
For this unique expedition experience, attendees will get the opportunity to travel across the border to Valle de Guadalupe for the once in a lifetime day-trip experience. The itinerary includes an encounter with the masters, family-style feast, onboard Baja sparkling wine service, exclusive winery tour and wine tasting, and more.
Seafood is a pivotal aspect of San Diego's culinary scene, and some of the country's finest chefs have taken marine life preservation and sustainable practices their top priority. During this lunch at the Marin Room, Master Chef Bernard Guillas will be hosting this exclusive five-course Ocean-To-Table experience while sharing information about the importance of preserving our oceans.
Join Chef Deborah Scott at Coasterra for a five-course dinner prepared over open flames while overlooking the San Diego Skyline. Each course will be paired with artisanal mezcals by producers from Oaxaca, Los Javis and Bozal.
Experience a tasting panel that delves into what influences the final outcome of high-end spirits. Eight expert panelists will explain their brand as you sample tequila, whiskey, gin, and brandy.
Join Chef Tommy Fraioli of 10 Barrel Brewing and Chef Ivan Munoz of The Deck at Moonshine Flats as they curate a four-course family-style BBQ dinner in true campfire fashion. Dinner will be complemented by beer and whiskey pairings, as well as a live blues concert at the Quartyard.
Sonoma County's Vérité Estate Winery is partnering with Del Frisco's San Diego to create a wine dinner that is not to be missed. Enjoy six of Vérité's most critically acclaimed Bordeaux-style wines paired with the refined cuisine of Del Frisco's.
San Diego's historic Gaslamp Quarter is a bevy of trendy hot spots, some much less known than others. Behind hidden entryways are secret rooms with sultry decor and craft cocktails. During this expedition, you'll learn about the thriving underground booze economy during the Prohibition era, and get the chance to visit three speakeasies.
With the holidays quickly approaching, now is the time to get a head start on planning your holiday menu! Culinary personalities and cookbook authors Gale Gand and the Hearty Boys will be preparing a variety of appetizers and cocktails perfect to get you in the holiday season.
The Grand Decant – Nov. 15 – $75 (GA); $125 (VIP)
Kick off the Festival weekend at the Grand Decant, where you will join the country's top sommeliers, wineries, and winemakers for a walk-around tasting from over 200 domestic and international wineries.
Grand Tasting – Nov. 16 – $145 (GA); $250 (VIP)
The awe-inspiring San Diego Bay plays host to the city's biggest foodie party of the year in a picture-perfect celebration of everything delicious. Taste from over 60 celebrity chefs and restaurants, hundreds of domestic and international wine, beer and spirit purveyors and gourmet food companies amidst a stunning coastal backdrop with sailboats floating by. This year, new features include a Plant-Based Zone, Chef's Table Experience, and Camp Cohn.
After a day full of delicious food and drinks, finish the night off with at the Nightcap After Party at the InterContinental Hotel. Overflowing with late-night libations, delectable desserts, and satisfying comfort food, this is the perfect end to a truly spectacular day.
Returning for its eighth annual competition, Taco TKO showcases mouthwatering battles as the city's top chefs compete to see who reigns supreme in the taco game. Head to the Lane Field Park for a day filled with plenty of beer, tequila, live music, and of course, delicious tacos.
For more information or to purchase tickets, visit SanDiegoWineClassic.com