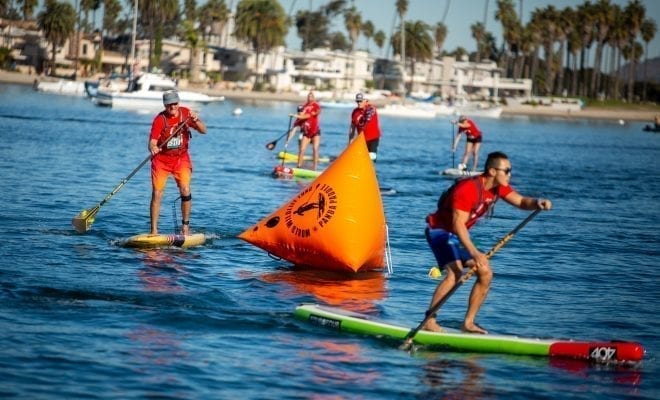 © Nate Dappen / Day's Edge Productions
Entertainment & Events
World Wildlife Fund Returns to Mission Bay For Its 2nd Annual Panda Paddle
By
|
The World Wildlife Fund is a conservation organization dedicated to preserving the planet's ecological diversity by establishing a future where humans and nature can thrive alongside each other. To do this, WWF hopes you can take a stand for the world's water, animals, and wild places by participating in their second annual Panda Paddle!
This one-of-a-kind standup paddle board event is held for those who want to make a difference in the world. This premiere peer-to-peer athletic fundraising event is aimed at raising awareness and funds for global conservation, all while having fun on the water. The Panda Paddle will feature three paddle-board races, including a 5K, 10K and a 1-mile course with two heats.
Join like minded athletes who share a love for conserving the environment, and get your competitive spirit on, both in and out of the water. Leading up to the event, participants are encouraged to go out within their communities and raise money to help support the WWF. 
Participants can raise money through a team or as an individual, and those who go above and beyond will quality for some sweet rewards like an insulated WWF reusable water bottle, Panda Paddle Race t-shirt, panda plush, and race day perks! After the race, head over to the bayside Panda Paddle festival, which will be filled with great music, delicious food, and loads of other fun and family-friendly activities.
The event is open to all levels, so whether you're a skilled paddle boarder or completely new to the sport, Panda Paddle welcomes you with open arms. If you don't have a paddle board, don't fret. They will be available to rent on-site for just $25. Pro-tip: if you raise $250 or more by the event day, one paddleboard rental is on the house! 
For more than 60 years, WWF has been one of the leading organizations in working towards protecting our oceans, rivers, climate, forests, freshwater, and wildlife around the world. They have been fighting the good fight for a long time, but there is still much work to be done. 
In the past year alone, WWF has been involved in a number of projects aimed at conserving both the environment and the Earth's ecological populations. Some of these include:
Launching campaigns to eliminate plastic waste in nature by 2030.
Working with conservationists in Nepal to secure a future where local wild tigers can thrive.
Assisting Namibia is ensuring not a single black rhino was poached in the countries conservancies.
Launching widespread social media campaigns to put a stop to wildlife trafficking online.
---
If you want to get involved in this incredible event, you can register at Panda Paddle today. The registration fee is $55 until Oct. 6, when prices will increase. As a special for our readers, use promo code SDEntertainer for $10 off!