Entertainment & Events
Top 5 Spots to Check Out During San Diego Restaurant Week
By
|
The 15th Annual San Diego Restaurant Week returns Sunday, January 20th through Sunday, January 27th, 2019 for an edible extravaganza to ring in the New Year. This foodie favorite week is the perfect time to take a culinary tour throughout the diverse and thriving food culture of San Diego. With over 180 participating restaurants offering prix-fixe menu options throughout San Diego County, your toughest decision will be which to pick.
Three-course prix-fixe dinner menus will be on offer for $20, $30, $40 or $50 per person, depending on the restaurant. Or take advantage of two-course prix-fixe lunch menus for $10, $15 or $20 per person. The participating restaurants span across the county from the South Bay to East County and to the borders of Oceanside and Fallbrook to the north. Here are my top 5 picks for Restaurant Week.
Brazilian Churrascaria at Rei do Gado
Rei do Gado is a local family owned restaurant that started a traditional Brazilian Churrascaria in Brazil. In 1999, the family started serving San Diego with top grade ingredients and a Mesquite charcoal grill. Churrascaria is a type of restaurant serving various cuts of meats, grilled in a skewer in a traditional Southern Brazil style. In addition to the meats, they offer a seafood bar, fresh salad & hot dishes and desserts. Adding to the Brazilian vibe is live music every night & samba dancer during the weekends. If you're looking for an all-you-care-to-eat option with lots of premium meat, definitely check out Rei do Gado for Restaurant Week and their $40 dinner deal.
Located a few blocks from the beach, The Patio on Lamont is a cozy, charming, and vibrant neighborhood restaurant. Their SDRW dinner menu features 3 courses for $40 with an optional wine pairing.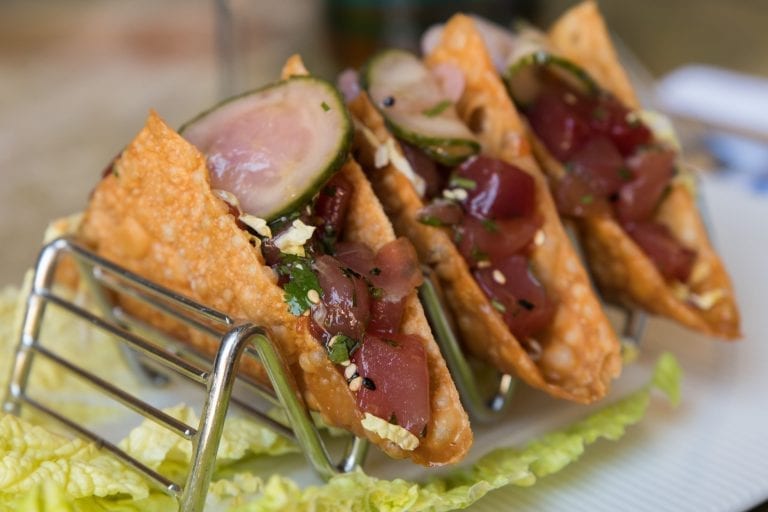 Your first course offers up 5 options: 
VEGGIE & GRAIN SALAD – quinoa, brown rice, avocado, corn, red kidney bean, scallion, heirloom tomato, romaine, cilantro, toasted cumin dressing
CHOPPED SALAD – mixed greens, garbanzo bean, pepperoncini, wax bean, red onion, sweet pepper, radish, pecorino cheese, calabrese salumi, Italian vinaigrette
CRISPY BRUSSELS SPROUTS – bacon, maple syrup, sriracha
AHI POKE TACOS – napa cabbage, cucumber salad, soy marinade, wonton shell
SMALL CHEESE & CHARCUTERIE BOARD – chef's choice of meats and cheeses served with bread and accouterments 
For your entree, pick between 6 options:
HALF CHICKEN – parmesan rosemary potato, lemon, arugula
STEELHEAD TROUT – poblano purée, kale, sweet potato, butternut squash, apple gastrique, cilantro
LAMB SAUSAGE FUSILLI – broccoli, tomato, basil, parmesan broth
FRENCH DIP – shaved ribeye, swiss cheese, french roll, jus
CHEESEBURGER – American cheese, onion, pickle, mustard, ketchup, sesame seed bun
TURKEY BURGER – swiss, roasted tomato, red onion, arugula, garlic aïoli, sesame seed bun, fries
Finally, choose between 4 decadent desserts:
TWISTED ELVIS house-made banana bread, peanut butter mousse, brûléed banana, vanilla ice cream, foster sauce
PUMPKIN CHEESECAKE whipped cream, eggnog anglaise, pepita brittle
PISTACHIO CHOCOLATE CAKE pistachio gelato, ganache, honeycomb
ESPRESSO CARAMEL PIE espresso mousse, caramel, chocolate, sweet flaky crust
Located in the heart of the historic Gaslamp Quarter just 2 blocks from Petco Park, the Gaslamp Strip Club provides a casual alternative to the traditional steakhouse.  This 21 and up "grill-your-own" lounge offers a unique and interactive dining experience, perfect for a night out with friends during Restaurant Week.  A steal at $30 for a three-course dinner.
Start with your choice of three options for an appetizer:
STRIP CLUB HOUSE SALAD mixed greens, tomatoes, cucumbers, carrots, croutons, bell peppers, creamy balsamic dressing
CAESAR SALAD shaved parmesian, croutons, black pepper
FRENCH ONION SOUP GRATINEE croutons, melted swiss cheese
For your entree, pick between 7 options, served with grill-ready garlic bread:
SUSHI GRADE AHI TUNA 8oz

NEW YORK STRIP 12oz
SALMON FILET 7oz lemon, garlic, butter
BONE-IN RIBEYE 14oz
PRIME TOP SIRLON 10oz
SKIRT STEAK 10oz
GUINNESS AND GARLIC STEAK 10oz
In addition, pick one of their delicious sides to accompany your meat.
For dessert, choose from 3 classic sweets:
SALTED VANILLA CARAMEL CRUNCH CAKE
DOUBLE CHOCOLATE MOUSSE CAKE
WHITE CHOCOLATE RASBERRY CHEESECAKE
Parc Bistro-Brasserie is a  family owned and operated French Restaurant in the heart of Bankers Hill. Enjoy an epic $50 3-course dinner starting with options like the decadent Beet Salad with brûléed goat cheese and Anjou pear. For your main, enjoy French classics like Coq Au Vin – Braised chicken thighs, fresh mushrooms, lardons, and mashed potatoes.
Primavera Ristorante in Coronado offers a specialty three-course menu priced at $50 per person. For starters, choose between cozze e vongole, local mussels, and clams, braised sausage, fennel and tomato in white wine and butter; insalata di barbabietole, roasted beets, arugula, goat cheese, candied walnuts, crimson pear, and citrus vinaigrette; or calamari fritti, tender fried calamari with house marinara sauce.
Entrée options include the choice between tortellini verdi, spinach tortellini stuffed with ricotta and fresh herbs, porcini mushrooms and tomato cream sauce; pollo saltimbocca, organic chicken breast, prosciutto, sage, imported fontina cheese in a white wine reduction sauce; salmone di vetro, pan-seared Scottish salmon with apple cider glaze and risotto croquettes; or ravioli di aragosta, lobster-stuffed ravioli in a creamy tomato vodka cream sauce.
Dinner will conclude with a choice between crème brulee; amaretto pannacotta served with almond biscotti; or assorted flavors of Italian gelato.