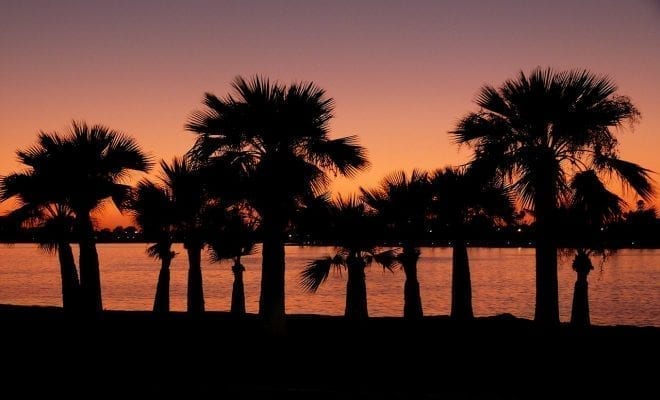 Entertainment & Events
This Weekend in San Diego 4/13-4/15
By
|
Let the festival season begin! This weekend brings tons of entertainment in the form of festivals such as a live streaming of Coachella, the Avocado Festival, the Women's Film Festival, and so much more.  There is something for everyone this weekend. Sports lovers out there? Head to Petco Park and watch the classic California rivals SF Giants v SD Padres. Rooftop Cinema Club just came to town so grab some friends and watch a movie screening while overlooking the San Diego skyline. Keep scrolling to find the perfect event for you this weekend in San Diego.
Friday, April 13
Pinner's Conference (Friday & Sat)
Pinners is a one-of-kind experience based on "Pinterest coming to life." The nation's top experts, influencers, and creators teach 100+ classes on popular trends. In addition, an entire shopping floor features nearly 300 local and national brands. This event is coming to San Diego, California for the first time April 13-14, 2018 at the Del Mar Fairgrounds. General Admission is $8.
Barleymash to livestream Coachella ALL WEEKEND
If you weren't one of the lucky music festival fans to snag Coachella 2018 tickets, which sold out within minutes, we've got the solution for you. The Gaslamp District's Barleymash will be live streaming the entire first weekend! Put on your flower crown, go all-out bohemian and hunker down at a table to catch the exciting lineup right here in San Diego. Barleymash has TV's all throughout the bar and dining area, so every spot is like a front row seat. The performances will be streamed in high quality video with full audio as well.
Salsa Under that Stars @ Grossmont College
Salsa Under the Stars starts with free salsa dance lessons at 5:30pm , followed by the 13-piece Manny Cepeda Orchestra, which blends classic salsa with Cumbia, Afro-Cuban, and world music. Tickets are $20 for general admission and $10 for students, with proceeds going to the Grossmont College Music Scholarship program. Tickets can be purchased at the Main Quad on the evening of the performance or online with the tickets picked up at will-call in front of Bldg. 26, Room 220.
Living with Mental Illness: Art Show & Open Mic
Mental illness affects many individuals who often feel alienated and misunderstood. Head to the Brown Building at 4133 Poplar St. to see artists expressing what they've created while processing or coping with their mental illnesses. There will be an opportunity to win art and other prizes.There will be an Open Mic portion of the evening, some time for the artists to talk about themselves and their pieces, along with music, food, drinks, a fire pit and a raffle where you can win original art and other goodies including art from the artists! There will be (alcoholic or non) drinks offered for suggested donations, so bring ID if you would like to drink. This is a FREE  that starts at 5pm.
Women's Film Festival @ Liberty Station  ALL WEEKEND
The Women's Museum of California is proud to present the 2018 Women's International Film Festival San Diego, April 13 – 15, 2018. This annual film festival was created to celebrate women's stories and experiences through film. The weekend long festival highlights the importance of female representation in the film industry, including women both in front of and behind the camera. Between 2007 and 2017 Women only represented 4% of the top-grossing films directors, The Women's Film Festival San Diego strives to close the gender gap in filmmaking by showcasing women directed films from around the world. The 2018 Festival will showcase feature length and short films that cover themes of family, LGBT, technology, body positivity, and sexual assault. Tickets $20 – $150.
Saturday, April 14
Are you looking for the greatest family event in San Diego that offers non-stop entertainment? Get your tickets to the Inflatable Run happening this Saturday, April 14 at the SDCCU Stadium (9449 Friars Rd, San Diego, CA 92108). Have a blast while supporting charity Just Care More, a non-profit dedicated to creating adventures that inspire and teach people of all ages to be rad and respect their dreams. Check out our Facebook page and enter to win family 4-pack of tickets – A $70 value!
Rooftop Cinema Club showing Anchorman
Rooftop Cinema Club just arrived in San Diego, and will be showing films atop Manchester Grand Hyatt San Diego. With its stunning views of the city from every angle imaginable, Rooftop Cinema Club is revolutionizing the movie-going experience in its unique and one-of-a-kind setting underneath and among the stars. Open to adults 18-and-over. Ticket prices start at just $17 per person for a single deck-chair underneath the moon and the stars. Showing is at 7:30pm
The Duck Dive, a premier neighborhood lounge and eatery in Pacific Beach, wants to transport you back to your teenage emo days. Throw on some eyeliner and a studded belt and head to Duck Dive for Bummer Beach night beginning at 9:00 p.m. Duck Dive does emo throw backs every Saturday, but this one is a special event with guest DJ Marko from 90's rock band Sugarcult. Remember the 2001 hit "Bouncing Off the Walls"? Have fun dancing and singing along to your favorite emo, indie and pop punk songs, the ultimate nostalgic nigh at the FREE event. There is no cover to get in! Enjoy beer, wine or cocktails like the refreshing Take Me to Mexico made with Los Altos Plata tequila (infused with watermelon), basil, jalapeno, agave, lemon and fresh watermelon.
Over 35 fantastic Hillcrest restaurants are participating, giving foodies a chance to sample some of their best and signature dishes this Saturday from 12-4pm. From quaint cafes and French and Italian style bistros to five-star dining delights, this is the most anticipated self-guided culinary walking tour in San Diego! Sample bites such as Pad Thai, Sashimi, Italian Antipasto, or Classic American Comfort Food! Your taste buds are going to go wild on this culinary journey throughout Hillcrest. Enjoy your friends, the gorgeous weather, and one unforgettable tasting adventure. Participants must be over the age of 21 to sample beers. Tickets are $30 and will be $35 on the day of the event. 
4th Annual San Diego Soul & Music Festival 
Head to the Valley View Casino Center for a night of throwback hits featuring 90s soul & RB music by Charlie Wilson, Joe, after 7 & Monica. You wont want to miss this concert starting at 8pm. Tickets starting at $45.
40th Annual Cultural Celebration at UCSD
Celebrate cultural diversity and unity through food, dance, music, and art from around the world at Thurgood Marshall College's 40th Annual Cultural Celebration in partnership with UC San Diego's Triton Day! Savor delicious international cuisine and pick up artisan crafts from local vendors. Enjoy live entertainment from campus and community organizations. Engage your little ones in educational and interactive exhibits at the Children's Village. This event is FREE and EVERYONE is invited!
The newest way to spin has arrived in the form of Seize. Spin. Sip., a unique experience combining San Diego's love of craft beer, spin and the outdoors. Taking place at 11 a.m., this novel spin class is the result of new San Diego fitness startup Spin & Go and Second Chance Beer Company (15378 Avenue of Science, San Diego, CA 92128), who have joined together to offer fun workouts at the brewery alongside craft beer tastings. To participate in Seize. Spin. Sip., guests purchase a $25 ticket online to their choice of spin class, which includes advanced level workouts.
Sunday, April 15
Check out this FREE event from 9am-5pm at 111 S. Main Ave. It includes local artisans on the Artisan Walk on Alvarado, Cazadores Margaritas at the Main Stage area, featuring local talent, food, wine garden, local beer, community stage, kid's zone and Avocado Central (located in the center of the event) where avocados and trees can be purchased. Family-friendly festival celebrating the agriculture of the region. With artisan vendors, food, kid's zone, music, beer garden, farmer's market, a guacamole contest, live music from bands like Malachi Henry & the Lights, Shane Hall, Delaney and Co, and more.
SD Padres v. SF Giants – day game @ 1:10pm
These California teams are playing each other at the Downtown Padres stadium all weekend. Game highlights include Military Opening Day, Jackie Robinson , Kids Fest, and Compadres Kids Sunday Signing where 2 players will sign autographs for kids 14 and under before the game.
Head to Truly Fine Wine @ 4060 Morena Boulevard for a delicious Rose tasting and charity event. Cheers to a Cure! Sparkling and Still Rose Tasting at Truly Fine Wine raising money for LLS! $15 per person. 10% of the sales will be donated to LLS. Patrons can also donate any dollar amount they choose in addition to the automatic 10%. Event begins at noon.
Wine & Canvas Painting Class -Mission Valley
Gordon Biersch Brewing Company in Mission Valley is hosting a Wine & Painting class – Flower edition. Follow the art instructor step-by-step as you recreate the featured painting. Then take home your masterpiece. Event takes place from 1-4pm. Tickets are $35.
Sparks Gallery Chapter 1 Art Exhibition Opening
For this second annual exhibition, we'll exhibit just six artists, a mix of emerging and established talent, and show eight original works from each spread across two "chapters" – a total of 42 original works for collectors to discover over the course of five months. "Gallery Selections 2018" artists include Khalid Alkaaby, Paul Hobson, Monty Montgomery, Marissa Quinn, Perry Vasquez and Brady Willmott. This is FREE event, but RSVP is required on their website.  Event time 6-9pm.
Fleet Foxes & Amen Dunes Humphrey's 
Fleet Foxes is Robin Pecknold, Skyler Skjelset, Casey Wescott, Christian Wargo and Morgan Henderson. The band is making their first ever appearance at Humphreys. With special guest Amen Dunes. Tickets are $60. Show begins at 7:30pm. 
Also, don't miss this awesome FREE class Monday, April 16 at 6:30 p.m. at Your Healthy Spine. They are doing a Group Meditation course where you can revive, regulate & reintegrate with this mindful meditation practice lead by Your Healthy Spine's Mandy Pfaff, MFT.