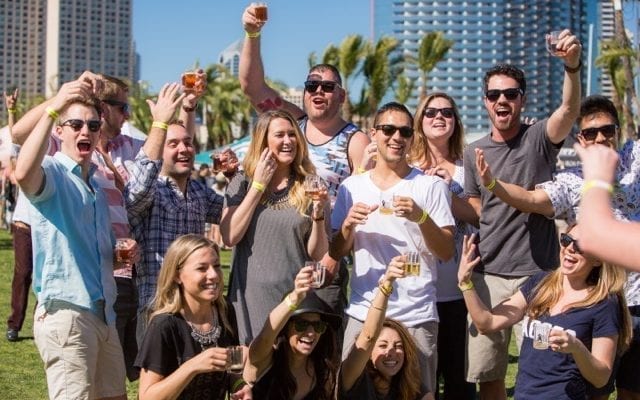 Best Coast Beer Festival, Courtesy Photo
Entertainment & Events
This Weekend in San Diego 3/8-3/10
By
|
This weekend is full pop up events, farmers markets, and other outdoor activities. With all this rain, and spring just around the corner, take advantage of the many workshops happening and add some flair to your living space.
Friday, March 8th
The San Diego History Center; 6-8p pm
The Fashion Redux Finale Party will be an evening featuring models wearing the student garments, a lecture on 1960s fashion by Mesa College fashion professor, Susan Lazear, and light refreshments. Attendees are encouraged to come dressed in their own 60s inspired attire will have the opportunity to vote for the People's Choice Award.
Tickets: $8-10
Bravo School of Art, 2963 Beech Street, San Diego CA 92102; 10 am – 1 pm
Join instructor Lauren Becker Downey at this entry-level workshop and create unique glass art pieces. In this exciting 2-part workshop, learn how to cut stained glass and combine it with mosaic techniques to produce fabulous light gathering objects of art. Use of colorful glass, (rather than traditional tile, dishes or smalti) is what makes this workshop a unique experience! Materials list provided upon registration.
Tickets: $96-108
La Jolla Wine Tours
Think that Napa was the first place to produce wines in California? Think again! San Diego County is actually where wineries and viticulture (the science, production, and study of grapes) began in the Golden State! Sun and Sip through San Diego's vineyards with San Diego Beer, Wine & Spirits Tours on this exciting journey into the past and present of SD area wineries! Tickets: $149
Now until March 13, $1 for every glass of J.Lohr wine sold at all Fish Market and Top of the Market locations will be donated to Stand Up for Kids San Diego. At just $10 / glass. Stand Up for Kids is a 100% volunteer run non-profit dedicated to helping the homeless, at-risk youth.
Rashelico Winery and Art Garden; 12 – 7 pm
Celebrate women at the Rashelico Winery and Art Garden this Friday while shopping and sipping on your favorite wine. Enjoy the local art pieces, the fashion, and of course the company of other strong women celebrating the international holiday.
FREE
Moonshine Beach, 1165 Garnet Ave, San Diego, CA 92109; 8 pm
A fusion of country and classic rock, the Florida native gambled everything to pursue his musical career. Riggs' gamble paid off, as he has racked up more than 2.2M Spotify listens to date. Named the Top New Male Vocalist by the Texas Regional Radio Awards, Riggs has found big success in the Austin area, and plans to bring his music to a national audience with his forthcoming tour.
Saturday, March 9th
Embarcadero Marina Park South; 12-4 pm
This fun festival is returning to San Diego and will feature over 100 of San Diego's home-grown craft breweries, plus food trucks and local entertainment for the city's beer-lovers and foodies to enjoy. The event will not only showcase San Diego's rich craft beer scene, but will also raise money for Cuck Fancer, an organization dedicated to raising awareness for young adult cancer, and helping survivors get back on their feet.
Tickets: $50 Use code 'SDEbeer' for $5 off
Enjoy farm fresh produce, meat, fish, flowers, gifts, and other little finds from over 200 vendors.
Barrels & Branches 1452 Santa Fe Drive, Encinitas, CA 92024; 11 am – 2 pm
Come create something living and beautiful by making a succulent-planted driftwood piece for yourself or to give as a gift! Larry & Bebe Bourget of Seafoam Driftwood will walk you through every step of this workshop. Pay only for the materials you use. All tools will be provided. Customize your creation by choosing as small or as large a piece of driftwood as you'd like, and using as many or as few succulents to fit your budget.
Tickets: $25
Moonshine Beach, 1165 Garnet Ave, San Diego, CA 92109; 8 pm
This Colorado native got her start in country music singing back up for Luke Bryan, and has toured with some of country music's top names, including Miranda Lambert. Dunn is currently on tour with the CMT Next Women of Country Tour, and recently released a new single titled "More."
San Dieguito River Valley Conservancy; 9 am
Enjoy your Saturday with the family at The San Dieguito River Valley Conservancy at their Watershed Explorers Program. You will learn what it was like in the pioneer days to be a part of a family, along with community work and the importance of our environment.
FREE. Register here.
Scottish Rite Center; 10 am
The 2nd Annual San Diego Rocket Con is a 2-Day comic and toy show in the center of sunny San Diego, CA. You will find many unique vendors selling all kinds of geeky collectibles from statues to comics and games. You can also meet some spectacular artists within our Artist Alley, introduce yourself to some professional cosplayers, or better yet, take a picture with them! When you're not worn out from all the fun, relax at one of our many panels. If you're looking for a show with great vendors and a friendly crowd Rocket Con is the place to go!
Tickets: $12-20
Bird Rock Café Roasting Facility; 10 am
Calling all coffee lovers! This Saturday Bird Rock Coffee Roasters is partnering with Frinji coffee to bring the first California frown coffee to the public. Come out to Bird Rock Café Roasting Facility to taste some legendary coffee that is not open to the public.
Tickets: $125
Sunday, March 10th
Torrey Pines State Beach and Reserve, 12600 N. Torrey Pines Road; 9 am
Torrey Pines State Natural Reserve announces their Nature Discovery series. The topic will be "Native Flowering Plants" by Margaret Fillius. A short hike will follow the lecture.
FREE with reserve entrance.
La Jolla Playhouse; 1 pm & 7 pm
Come out this Sunday for a unique performance experience at La Jolla Playhouse. The year is 2068 and NASA sponsors a contest to see who can live in this new world. Come out at 3 pm to catch this show that will inspire dreams and passion.
Tickets: $9
Bayside Park, 999 Bayside Parkway, Chula Vista; 11 am – 7 pm
The International Mariachi Festival & Competition is a community-friendly event providing entertainment for families to come together and celebrate San Diego's Mexican heritage through Mariachi music, traditional ballet folkloric dancing, and a celebration of arts, culture, and culinary delights.
Tickets: $0-50
The Merrow, 1271 University Avenue, San Diego; 5 pm
The Burlesque Sunday Tease is a mix of talented burlesque, sensual pole dancing and live jazz classic music. Drinks as low as $3.00.