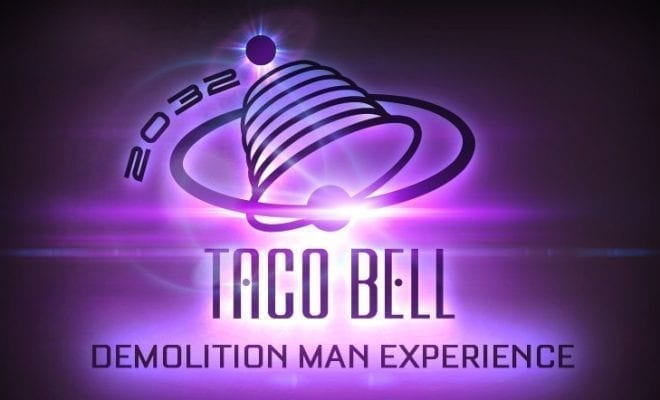 Entertainment & Events
The Ultimate Comic-Con Takeover: "Taco Bell of The Future" Pop-Up
By
|
Taco Bell in The Gaslamp is launching a restaurant takeover at Greystone Steakhouse & Seafood, in honor of the Demolition Man movie's 25th anniversary. Taking on a futuristic look with off-menu dishes from Taco Bell during Comic-Con, the space will be unrecognizable this weekend between July 19th – 22nd. Word on the street is the Taco Bell sign went up yesterday and big things will happen overnight.
Are you ready for the Taco Bell #DemolitionMan 25th Anniversary late night pop-up restaurant/shop? BECAUSE I AM. (via @ParksAndCons): https://t.co/w6Pdwfv6MM pic.twitter.com/9AePz207jf

— SDCC Unofficial Blog (@SD_Comic_Con) July 17, 2018
While this 20-year landmark of the Gaslamp Quarter is typically known for its elegant atmosphere, exotic wild game and international selection of wagyu steaks, Greystone will be trading out their sommelier for a soda machine and their filets for Nacho Fries at this pop-up transformation into Taco Bell 2032, the "Taco Bell of the Future". Inspired by the 25th Anniversary of Warner Bros.' 1993 action sci-fi film Demolition Man, the restaurant takeover will re-create the iconic eatery of the film's dystopian future where Taco Bell is has won the franchise wars and is the only restaurant that exists.
Throughout Comic-Con weekend from July 19th to July 22nd, Greystone's Taco Bell pop-up event will be open from 6:00 P.M. to midnight with upscale variations of typical Taco Bell fare.
Hungry for an added bonus? All food is free, with no Comic-Con badge required for entry and exclusive Demolition Man merchandise available for purchase.
It's tough to name a more iconic pair than Greystone Steakhouse & Seafood and Taco Bell. Join this local landmark in celebrating the return of Taco Bell's iconic Nacho Fries and Demolition Man's triumphant 25th Anniversary at the upscale and futuristic Taco Bell 2032 pop-up this Comic-Con weekend.