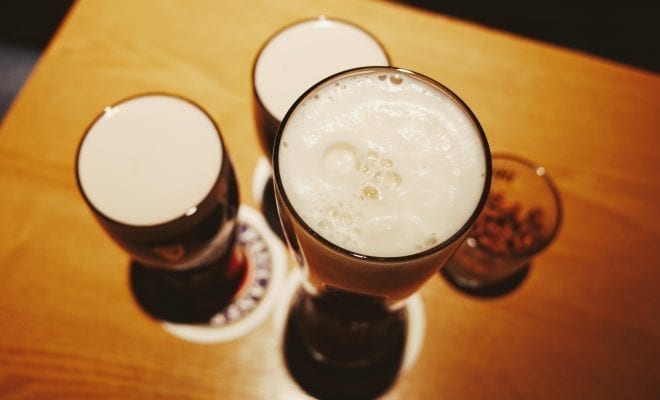 Drinking
SD Craft Beer Guide: March
By
|
Only in San Diego are there tons of awesome activities all revolving around craft beer. Aren't we lucky? If you need some good craft brews in your life, here are the events you don't want to miss this month.

Head on over to Thorn Brewing Co. to grab a few cans of this hazy limited release. Characterized by its intense tropical juiciness, this IIPA will blow your mind.
Come celebrate St. Patty's Day with Green Glitter Beer, green pizza dough, Irish Red Specials and corn beef sliders. Be sure to wear green!
Be ready for live performances from The Downs Family along with a special brew on tap – the Downs Family Hooligan Irish Stout.
Ever dreamed of showing off your Mario Kart skills on a 130-inch projector screen at your favorite brewery? Well, that's an oddly specific dream, but now you'll have your chance! Plus, you can enjoy $2 off full pours during happy hour.
Join the festivities at this 4th anniversary party hosted by Kilowatt Brewing. Be sure to scope the release of four new variations of their popular Chocolate Macadamia Stout.
Hop aboard this Pizza Port party bus for a night filled with hockey and beer!
If you've got the craft bug, come visit 13 Point Brewing Company, where you'll be able to make your own macrame plant hanger while you sip on a beer. All supplies are included.
Celebrate the release of 3 new beers and a total of 5 beers tapped on Nitro!
Celebrate women at this fantastic event that will feature a special influential guest speaker while you share a newly released beer made by incredible ladies.
Join the first fundraiser for the B-Present Foundation at Second Chance Beer Company. This recently established non-profit organization was founded in memory of 20-year old Kirsten who lost her battle with leukemia. This charity event will help raise money for young adults who are fighting cancer.
Come out to enjoy some Hawaiian music courtesy of the talent provided by Kurt's Ukulele and Aloha Songs.