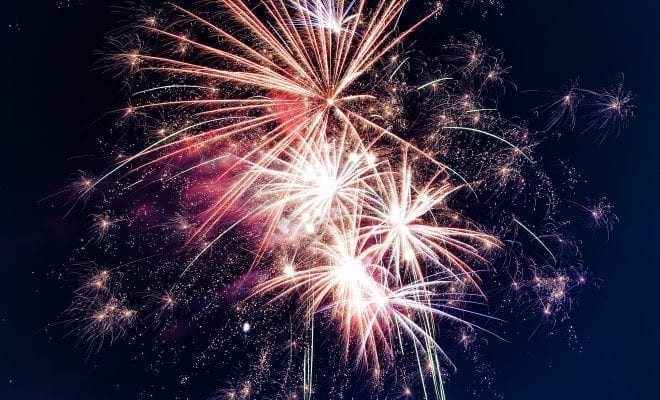 Entertainment & Events
Complete Guide to San Diego Fireworks 2018
By
|
Fourth of July is just around the corner which means planning a day filled with activities, eating, dancing, and of course, watching fireworks. San Diego's military tradition, near-perfect weather, and wide variety of celebration locations makes it an ideal spot to celebrate the nation's independence. Weather is looking to be favorable, with clear skies expected Wednesday night. So get out and see those fireworks! There are a ton of locations throughout San Diego where you can get a good view.
Big Bay Boom
The biggest fireworks show in the region is the Big Bay Boom, where spectators can see the show all along the bay. With fireworks launched from four barges strategically placed around San Diego Bay, this fireworks show is the largest on the West Coast. The show can be seen from Shelter Island, Harbor Island, North Embarcadero, Seaport Village/South Embarcadero, and the Coronado Ferry Landing. After wrapping up your Fourth of July activities, head to one of those 5 locations to see a show of a lifetime.
Watch Live on Fox 5 (San Diego) or KTLA 5 (Los Angeles) from 8:00-9:30 pm. Watching in person? tune to MAX FM 105.7 at 9:00pm for the musical simulcast.
Looking to avoid some of the crowds and get a great perspective on the show? Hop on the Berkely Ferry (operated through the Maritime Museum) for a picnic dinner. Some space is available for both seatings, so you can eat, then stake out a great spot to watch the show. Cruises are available on the Californian and America, but are sold out for 2018. sdmaritime.org for more information.
Hornblower is also offering dinner cruise options, and from the looks of it, there is some availability.  Their Celebration Dinner Cruise is $173 per adult and includes a 3-hour cruise, a glass of champagne, gourmet buffet dinner, music and dancing, and of course, an incredible view of the fireworks. Flagship Cruises is also offering a Star Spangled Dinner Cruise, a $150 ticket which includes a 3-hour cruise, a complimentary glass of champagne, three-course dinner menu, plus music and dancing.
San Diego Fireworks Displays
Coronado
The Coronado celebration starts with a parade down Orange Avenue at 10 a.m.; catch a concert in Spreckels Park at 4 p.m. and fireworks over Glorietta Bay at 9 p.m. In between, a number of activities are planned, including a 12K run and 5K run-walk, rough-water swim and demonstrations by military personnel.
La Jolla Cove – Cancelled
There will be no La Jolla Cove fireworks in 2018.
Ocean Beach
Head down to the Ocean Beach Pier for a seaside celebration. Spend the day in OB picnicking, playing in the waves, shopping along Newport Avenue and watching a rad sunset. Fireworks launched from the end of the pier begin around 9 p.m. Surfers from all over San Diego come out to paddle out and watch the fireworks show while floating on their boards past the break. If you head to Ocean Beach, remember that the marshmallow war tradition is no longer welcome. Leave your marshmallows at home.
San Diego County Fair
The San Diego County Fair is in town and provides an all-American good time. The usual festivities will be in full effect, but fairgoers will also enjoy a flyover by F/A-18 Hornet Fighters, the Marine Fighter-Attack Squadron 101 at 7:30 p.m. Music will be provided by Navy Band Southwest's Destroyers Contemporary Music Group, followed by 9:00 p.m. fireworks. Fireworks are launched from the west end of the racetrack and are choreographed to a soundtrack played through the Corona Grandstand Stage sound system. The fireworks are visible from many areas of the Fairgrounds, with favorite viewing areas including reserved Terrace seating and 2nd and 4th levels of the Grandstand, Family Funville, and the Fun Zone. You can also purchase designated seating in the grandstand – use the link above.
Seaworld
SeaWorld San Diego will host its annual fireworks show at 9:50 p.m. This spectacular 16 minute show will be repeated (for a shorter amount of time) on Thursday through Saturday as well. The show, which can be viewed as far as Fashion Valley, will be set to music at the adventure park.
North County San Diego Fireworks Displays
Escondido
The city will host its 55th annual Independence Day Festival. The free event features live music, food and games for the kids. The festivities will conclude with a special performance by the 3rd Marine Aircraft Wing Band and, of course, a dazzling fireworks display starting at 9:00 pm.
Legoland
Legoland California will host its annual Red, White and BOOM! celebration on July 4. Visitors can expect a day of fun, ending with a fireworks show at 8:30 p.m. Throughout the day, enjoy performances, participate in picnic games (water-balloon tosses, burlap sack races, and more). They're also doing a patriotic costume parade, so come dressed in your favorite Red, White and Blue attire. The fun goes from 1:00pm to 9:00pm and all activities are included in admission.
Mira Mesa
Mira Mesa will host its 44th annual 4th of July Parade and Fireworks show. Start the day with a pancake breakfast at the Mira Mesa Senior Center from 7:00 a.m. 11:00 a.m., followed by Family Fun Day in the Park which opens at 11:00 a.m. with food vendors and entertainment. The annual 4th of July Parade will begin at 11:30 am from the corner of Mira Mesa Blvd and Greenford Drive, traveling down Mira Mesa Blvd and turning north on Camino Ruiz to end at New Salem. The day concludes with the fireworks display at 9 pm. , and the Park provides a front row seat for the Fireworks Extravaganza which take place at the high school. The annual fireworks are produced by Scripps Mesa Fireworks.
Poway
Head over to Poway High School Stadium for games, activities, and a DJ, plus fireworks, of course! Gates open at 6:00 pm and fireworks begin at 9:00 pm.
Rancho Bernardo
The north San Diego community of Rancho Bernardo will host a day of festivities to celebrate July 4, ending with live music at 6 p.m. and a fireworks show at 9 p.m. The party begins with a free community fair in Webb Park from 9:00 a.m. to 2:00 p.m., followed by the 49th annual Spirit of the Fourth parade at 3:30 p.m. in downtown Rancho Bernardo. Festivities conclude with the 9:00 p.m. fireworks show at Bernardo Heights Middle School (suggested donation is $10 per person or $20 per family).
Yes, you read that right. Head to PQ for a fireworks display a day early! The Independence Day Fireworks Show is held at the West View High School Football Stadium. Gates open at 5:00 p.m. Music will be playing before the show, which begins between 8:30 p.m. and 9:00 p.m. There will not be concessions, so plan ahead.
San Marcos
Bradley Park will host its annual Fourth of July celebration with live music, kids activities and food, starting at 6 p.m. Fireworks will begin at 9 p.m.
Vista
Get to the Moonlight Amphitheatre for dinner, music, and fireworks display. Gates open at 5:00 pm and two dinner seatings are available. Stay for the Military Heroes Salute at 7:15 p.m., followed by a performance by The Mar Dels at 7:30 p.m. Fireworks begin at 9:00 pm. Admission to the Moonlight Amphitheatre is $5 per person. Dinner pricing is available online. 
East County Fireworks Displays
El Cajon
Head over to Kennedy Park for a day of celebrations. The city will host a July 4 festival from 1:00 p.m. to 9:00 p.m. The fireworks show will kick off at 9:00 p.m. Throughout the day, enjoy games and music, crafts, fun family games and more. Fireworks will be synchronized with KYXY 96.5 FM.
Julian's 4th of July Parade (no fireworks)
So the saying goes…"it's American as apple pie." Apple pie and Julian go hand-in-hand, so it's bound to be a great time if you head (or live) east. Enjoy pre-parade activities at 10:00 a.m. with a fly-over of 4 Steearman Bi Planes used in WW2 to train pilots. At noon, there'll be a shoot-out by the Doves and Desperados and a second fly-over of one T-6 military training plane and one T-34 military training plane. The National Anthem will be sung by the Julian Arts Chorale. The parade begins as soon as the National Anthem is completed. Keep in mind that Main Street closes to traffic at 9:00 a.m.
Lake Murray
After several years on hiatus, the beloved Lake Murray event returned in 2017, and is back again! With a full day of food, fun, bands and fireworks, head to the Lake Murray playground from 11:00 a.m. to 9:30 p.m. to enjoy the festivities.
Santee
Independence Day festivities begin at 2:30 p.m. at the Kid Zone where games and rides will keep the little ones busy. Live music will be provided by the 80z All Stars and there'll be a patriotic ceremony at 6:00pm. Fireworks start at 9:00 p.m. A free shuttle service will be available from 3:30 p.m. to 11:00 p.m. from the Costco parking lot or on Cuyamaca near Rio Seco school the to the event site.
South County Fireworks Displays
Chula Vista
Chula Vista will host a fireworks show at the Elite Athlete Training Center. The show begins at 9 p.m. with synchronized music on 91X, KFM-BFM 100.7, Magic 92.5, Z90.3, and AM 760. Gates open at 6 p.m. Keep in mind that no alcohol allowed and vehicles and pedestrians will be searched upon entry. Parking is $10
Imperial Beach
The South Bay beach city will host a Fourth of July fireworks show at 9 p.m. at the Pier.
National City
National City will celebrate all week with festivities from June 29 – July 4. Head to Kimball Park for carnival games, rides, food and drinks and various entertainment throughout the week. Events throughout the week include the Miss National City Educational Pageant and the South Bay's only inland fireworks display. Fireworks begin at 9pm.