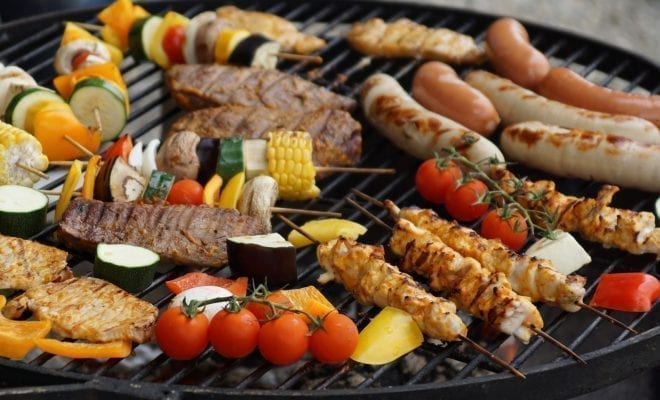 Dining
5 Tips for a better 4th of July BBQ
By
|
There are countless ways you can celebrate Independence Day this year. Whatever type of celebration you choose, likely there will be food involved. Whether you decide to barbecue in your own backyard, have a pot-luck, or go out to eat, food has become a staple for the July 4th holiday (and most American holidays, come to think of it). As a tribute to Independence Day, the Entertainer has compiled a list tips, tricks, and recipe suggestions that will add a little spark to your summery celebration.
Tip #1: Jazz up the Hot Dog
While tiny little franks may be okay for the kiddies, adults at your party may want something a little more sophisticated. Keep it simple with a grilled sausage (we recommend the traditional frankfurter, Polish sausage, or bratwurst ) in a simple fluffy bun. Top with your choice of condiments. (The most popular condiments are mustard, followed by ketchup, and Chili).
If you want to get a little crazy, try a fusion of hot dog and other American favorites. Make a Philly Cheese Dog topped with peppers and cheese or a Nacho Dog topped with salsa, guacamole, and jalapeños.
Tip #2: Skip the sliders
Sliders (or mini hamburgers) are all the rage these days, but unless you want to waste away in the kitchen prepping the small bites of food (don't forget about the toppings, too!), you'll probably want to go for something more manageable. Instead of sliders, try "inside out" or stuffed burgers. Blue cheese crumbles, feta cheese, or traditional cheddar can be easily stuffed into a regular sized patty. Your guests will be surprised to find what's hidden inside!
Tip #3: Simple sides
Sometimes nothing beats tradition, so in the spirit of a very American holiday, stick to what mom used to make. Potato salad and cole slaw are delicious and refreshing on a warm summer day. For a healthy twist, swap 2/3 of the mayo for Greek yogurt and keep your recipe the same. Or try a vinegar based salad instead.
Tip #4: Create a signature drink
Instead of tending bar all day, create a signature drink (or two). Fill pitchers with your favorite concoction and leave the pouring to your guests. We recommend serving refreshing mojitos, summer sangria (use in-season fruit for the best flavor), lemonade, and/or iced tea. All drinks can be made alcoholic or non alcoholic by swapping out liquor with club soda, sparkling fruit juices, or leaving it out completely.
Tip #5: Grill desert
Why not keep the grill running for desert? Peaches and plums or pineapple and mango make great parings and also go wonderfully over ice cream.
When deciding what to indulge in this year there are many options. You can go all out, try new recipes, and impress your guests with the "wow" factor, or you can go for something more laid back and traditional. Whatever you choose just be sure to enjoy the day off, have fun with your friends and family, and be safe. Make sure you designate a driver and always exercise caution with fireworks. Bust most importantly of all, take a minute to reflect on what the 4th day of July means to you. Happy Independence Day, San Diego.