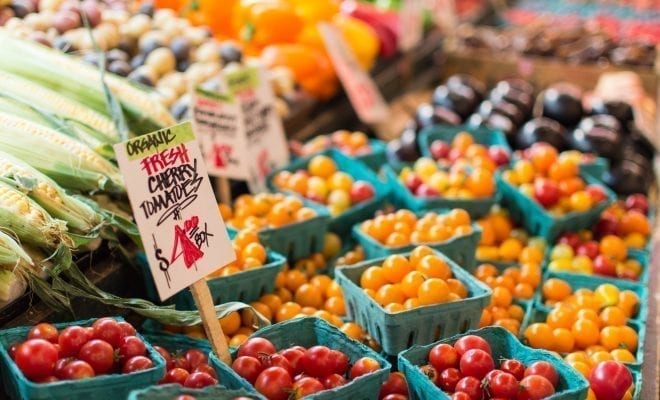 Entertainment & Events
San Diego Farmers Market Frenzy
By
|
Buying local, fresh produce is easy to do in San Diego, thanks to the many farmers markets that are held in neighborhoods all around the entire county. With over 50 certified farmers supplying all sorts of yummy produce and goods, you'll be sure to find something you like. Be sure to shop local and fresh at these top farmers markets in San Diego.
Sundays 9am-1:30 pm year round
Proceeds at this farmers market go towards benefiting a variety of initiatives at the La Jolla Elementary public school, so you can feel good knowing your supporting sustainable produce and the education of young minds. With over 140+ vendors, you can find anything from exotic fruits to fresh flowers. Plus, the food court offers a variety of cuisines, ranging from Chinese dumplings to authentic Indian cuisine.
Winter hours 3pm-6pm (November 7 – March 6)
A smaller market with a ton of heart, this is the place where you'll find local businesses selling specialized products you probably won't find anywhere else. Enjoy fresh produce, locally prepared foods, handmade crafts, and live entertainment to cap off a day well spent in the beautiful Carlsbad Village.
Saturdays 8am-1pm year round
With 65 vendors offering only the best locally sourced goods, the Poway Farmers Market has that old-timey hometown vibe that is perfect for any outdoor market. Bring the kids along! They have the railroad train ride that makes for a fun adventure with the family. Here you'll find some of the best handmade dips, nuts, and olive oils, along with some fantastic food vendors.
Fridays 3pm-7pm year round
If your mission is to find the best fresh produce, La Mesa is the farmers market you want to check out. This Silver-Star winner for best produce in East County lives up to its accomplishments, and vendors are not afraid to offer up samples of their delicious produce. You'll also be able to find a lovely selection of fresh cut flowers and a thriving arts and crafts scene.
Saturdays 9am-1pm year round
A thriving hub of multicultural vendors, the City Heights Farmers Market is perfect for those who want to enjoy goods from other cultures. From Vietnamese sauteed noodles to Argentinian empanadas, this is your chance to experience new and exciting cuisine.
Sundays 12am-4pm year round
Located in the Cedros Design District, the Solana Beach Farmers Market is perfect thanks to its vibrant art and live music scene along with tons of great food and shopping. Thanks to plenty of shaded seating, you can enjoy some shopping and a tasty lunch while enjoying the mild weather of Solana Beach.