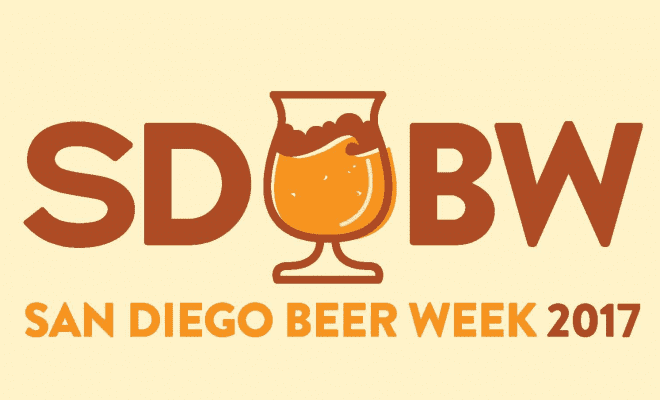 Entertainment & Events
It's San Diego Beer Week!
By
|
What's better than enjoying a beautiful day outside in San Diego? Well, spending it outside while celebrating the annual San Diego Beer Week of course! If there's one thing we do right in San Diego, it's craft beer. San Diego is one of the highlight craft beer capitals of the world, and we are fortunate enough to practically be neighbors with some of the best breweries in the world. However, starting November 3rd, and going through November 12th, you can celebrate your love for beer with like-minded San Diegans. There are several events taking place during Beer Week that you won't want to miss.
Taking place on November 11th, Karl Strauss' Collabapalooza will take place in the hub of San Diego Beer, aka North Park/30th Street. The event is billed as an "indie beer collaboration celebration" in which 30+ independent San Diego breweries will come together to throw a killer party with tons of good food, good vibes, great people. Head down to the parking lot behind the North Park Observatory this Saturday to check it out. In addition to unlimited pours of these one-off collaborations and rare releases there will be food, screen printed t-shirts, and more. Proceeds from the event will be directly benefiting both the San Diego Brewers Guild and the North Park Main Street Association.
In addition to hosting the Collabapalooza beer festival, the San Diego Brewers Guild has unveiled their brand new IPA, created in the spirit of collaboration. It was brewed with the founding members of the guild, including Coronado Brewing, Karl Strauss, Pizza Port, Stone Brewing, San Diego Brewing Co., AleSmith, Oggi's, and San Marcos Brewery and Grill. The San Diego style IPA is called "Capital of Craft" and it debuted at the start of Beer Week. It's a San Diego-style IPA (ABV 7%) commemorates the Guild's 20th Anniversary. Pints from the 120 kegs of Capital of Craft IPA were available at the VIP Brewers event on November 3, 2017, but are being released around town as we speak.
Another fun event taking place during San Diego beer week is the Beer Garden held at the Arroyo Terrace of the Lodge at Torrey Pines. Finish Beer Week strong on Sunday, November 12th when the Beer Garden brings all the finest brewers into one beautiful location, allowing to sample all types of craft beers. In addition, there will be a wide range of award-winning chefs in attendance that will be pairing delicious food with your favorite hoppy beverage. For those who want to stay at the Lodge at Torrey Pines overnight, you can conveniently purchase a package that includes a 1-night stay at the Lodge, in addition to two tickets to the beer gardens. Some of the brewer/chef pairings include Tom Hams Lighthouse with Karl Strauss Brewing Co, Grill at Torrey Pines with AleSmith Brewing Co, and Stone World Bistro and Gardens with Stone Brewing Co. If you're interested in learning more about the event or purchasing tickets for yourself, then head on over to their website here.
Looking for a couple smaller scale events? Stout lovers will rejoice at the Alesmith Speedway Grand Prix. This is their 5th Annual Speedway Grand Prix event and will feature over twelve different specialty Speedway Stout variants broken into three flights (they call them laps), plus a flight for VIPs (Barrel-Aged versions of the beer). Each lap is $11, plus the VIP lap which comes in at $17. You can find what's in each lap online. Attendees can choose from tastes of Chocolate Chip Cookie Speedway, Canadian Speedw-eh?, Peruvian Speedway, and so much more. Events happen throughout the day Wednesday, Thursday and Friday from 11am to 10pm, just come by and enjoy the delicious beer (or several).
You may also want to check out one of the many beer bars in San Diego. Try Small Bar, Hamilton's, or O'Brien's for a great selection and some tap takeover events. One night that will sure to be a success is taking place at O'Brien's on Thursday. It's Founder's Brewing Night and they're serving up the ever-ellusive Kentucky Brekfast Stout (KBS) and its big brother DKBS. This 14% Bourbon Barrel Aged Malt Liquor will likely sell out fast. While you're their, also try the Mosaic Promise and Doom, a 12% Bourbon Barrel Aged Double IPA. It's also Mac n' Cheese night, so soak up the suds with some awesome cheesy goodness.
Get out there and enjoy Beer Week! Check out all the events online, and remember to designate a driver. Lyft is also offering 20% off two rides to or from any San Diego Beer Week event with code SDBEERWEEK.