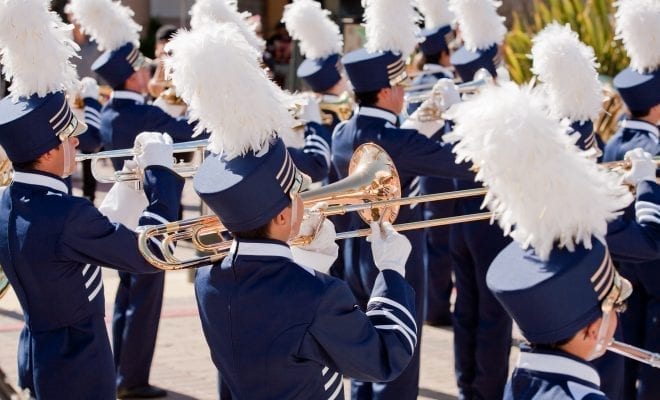 Entertainment & Events
Parade Band Foundation Presents Liberty Station Band Review on Veterans Day
By
|
This Veterans Day, join the Parade Band Foundation at Liberty Station as over a dozen high school bands from Southern California perform at the first Liberty Station Band Review. Liberty Station's Band Review and festivities will take place on Saturday, November 11, from 10 a.m. to 4 p.m. All are welcome to enjoy Veterans Day at Liberty Station and watch the bands march around the historic neighborhood.
The Liberty Station Band Review will feature the vivacious marching band performances of multiple Southern California high-school marching bands, professional judging and an awards ceremony, an honorable military salute, live music and entertainment, and a community festival with a plethora of food options, entertainment and activities for the whole family.
"After six years of holding the Parade Band Foundation's Band Review in Chula Vista, we are thrilled to bring this premier event to Liberty Station. With this year's event falling on Veteran's Day, it's the perfect location given the neighborhood's rich military history," said Neil Anderson, president of the Parade Band Foundation. "The community is invited to celebrate healthy competition among marching bands and gather to salute our men and women in uniform on this special holiday at Liberty Station."
Beginning at 10 a.m., high school marching bands will take the streets of Liberty Station to present memorable performances. The bands will march around Liberty Station for the public to enjoy and perform for a panel of professional judges in front of the Dick Laub NTC Command Center. After all high school bands have completed their performances there will be an awards ceremony and military salute to veterans, military and their families.
Following the awards ceremony, the community is invited to participate in the festival with food trucks and live entertainment. Attendees are encouraged to stay and explore Liberty Station and observe stage performances, kids' gymnastics, face painting and more all at the festival.
The Liberty Station Band Review will not only foster a tight-knit relationship with the community and honor our men and women in uniform, but it will also restore notoriety and recognition to marching parade bands that are quickly disappearing due to a lack of funding for state schools. Guests will enjoy the performances of marching bands from Sweetwater High School, Calexico High School, Diamond Bar High School, South Monte High School and more as they come together to perform at Liberty Station for Veterans Day.
Street closures for the event will start at 8:45 a.m. and will be reopened at 11 a.m., after the marching band performances are complete.
To say connected with the happenings of Liberty Station, make sure to connect with the neighborhood on Facebook/LibertyStationSD, Instagram @libertystation, or Twitter @liberty_station. For more information about road closures, and the Liberty Station Band Review, visit www.libertystation.com.