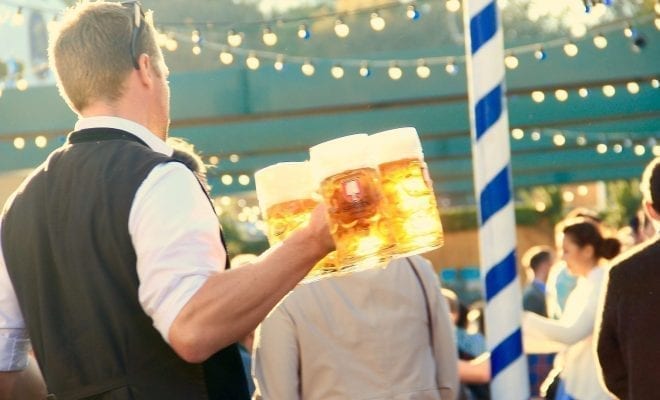 Entertainment & Events
Celebrate Oktoberfest in San Diego
By
|
It's that time of year again – where we indulge in delicious bratwursts, tasty pretzels and yummy beer from our good friends in Germany. All hail King Ludwig, who established this wonderful idea of bringing people together to enjoy Germany's finest food and beer. Hop on over to any one of these Oktoberfest's happening this month in San Diego and experience the great culture of Germany. Prost!
This Oktoberfest is uniquely celebrated with palm trees, beach views, and flying seagulls, as we reside in beautiful Southern California. This beachside festival is a two-day festival that takes place Friday, October 1th – Saturday, October 12th, with plenty of games and beer for all to enjoy. The times of this event are from 4 -12 am Friday and 11 -12 am Saturday. Friday night will kick off with a Stein-holding contest, balloon blow contest, 91X Happy Hour from 4:30 -6:00 pm and live music in the 21+ ($5) garden. On Saturday, from 11- 12 am, they will feature traditional oompah music, beer garden, sausage toss competition, stein-holding contest, bratwurst eating contest, Ms. Oktoberfest and a balloon blowing contest. Location: 5099 Newport Avenue, San Diego, CA 92107.
Put on your lederhosen and join El Cajon for their most traditional Oktoberfest. Every year, the German American Society of San Diego puts on their annual event, fun for the family! Admission is $10 for adults on Friday and Saturdays and $5 of Sundays. Those under 21 or active military will be admitted for free. The Oktoberfest will commence with authentic German food, German beers and liquors, and of course, Oom-pah music. Watch traditional folk dancing performances, compete in various contests, check out the vendor and craft booths and take your kids to the fun kids' zone. Yes, this event is fun for all ages. An ongoing raffle will take place at the event for $1 apiece for your chance to win a grand prize trip for two, to Germany. The raffle will be drawn on Sunday, October 6 at 8 pm. Location: 1017 S. Mollison Ave., El Cajon, CA 92020.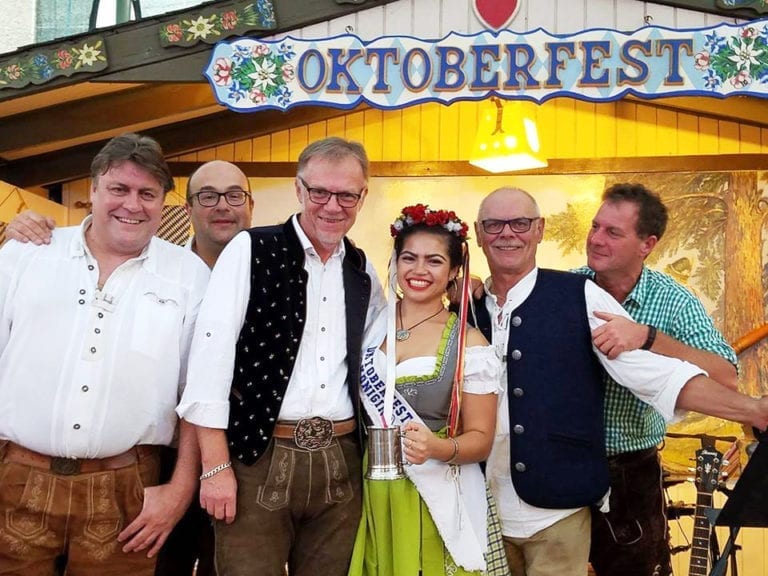 Enjoy Carlsbad's 37th Annual Oktoberfest that takes place on Saturday, October 5, from 12 – 5 pm. Admission is $15 including your meal or $5 without a meal. This Oktoberfest is held by The Carlsbad Rotary Club in support of donating to a cause and having fun while doing it! The Carlsbad Rotary Club has been an active and dynamic organization within the greater Carlsbad community for close to a century.  They sponsor and support numerous local charities as well as international relief/aid projects in the spirit of "think globally, act locally". Last year the club contributed over $39,000 in philanthropic aid to local charity organizations. So, fill your day with great food, beers, fun contests and fun for you and your family to enjoy. There will be a costume contest, arts and crafts, pumpkin carving, and a few fun surprises. Location: Holiday Park, Carlsbad, CA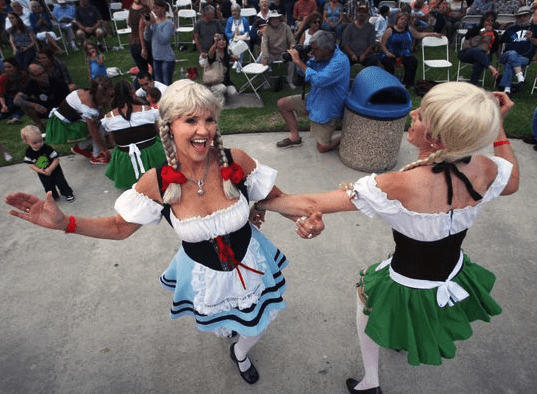 This Oktoberfest is the largest in San Diego county, covering six blocks of La Mesa Village. This event is free to the public and will take place from Friday, October 4th -Sunday, October 6th. This three-day event will feature local and regional bands, a beer stein race, keg stacking, traditional German dishes and plenty of German beer. By upgrading your ticket you can receive front of the line privileges, a stein, and complimentary beers. A Ferris wheel will also be present during the Oktoberfest, costing $6 per single ride. Location: 8301 La Mesa Blvd, La Mesa, CA 91942
Going 24 years strong, the Encinitas Chamber will host another fun-filled Oktoberfest on the streets of El Camino Real. This event will take place on Sunday, September 29, from 10 – 6 pm and is free to the public. You can be sure to walk in on; authentic german music, carnival rides and a street craft fair featuring 200 vendors. A family fun zone will also be present during the event, full of kid rides and other activities. The beer garden will feature beer from local breweries, as they will begin pouring at 11 am. Location: 535 Encinitas Blvd, Encinitas, CA 92024.
ALBACA restaurant at the Coronado Island Marriott Resort & Spa will be celebrating Oktoberfest on Sunday, October 6 from 6-9 pm. In partnership with Brandt Beef and Attitude Brewing Company, guests will enjoy a beautiful October evening alongside the San Diego Bay with a full feast showcasing German specialties like Buffalo Maple Sausages, Chipotle Braised Cabbage, Beer Poached Bratwurst, Beer Braised Brandt Beef Cheek, and more! Dinner will be priced at $70, inclusive of gratuity and tax, dinner, a pint of beer and parking.