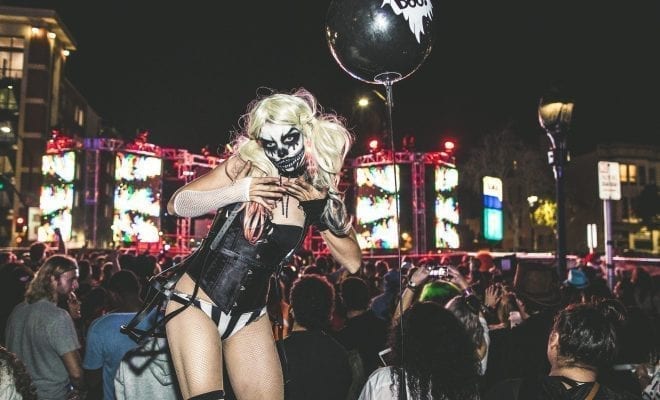 Entertainment & Events
WCKD Village Returns As San Diego's Biggest Halloween Bash
By
|
WCKD Village, San Diego's spookiest Halloween Festival returns to Downtown on Saturday, October 26th for an evening of scares and nightmares. Prepare to enter an extravagantly creepy realm as the streets of Downtown evolve into a land of terrorizing creatures and twisted adventures. Plus, this year's special guests and headliners include hip-hop artists Trey Songz and T-Pain and retro faves LA Riots and Donald Glaude.
WCKD Village has become San Diego's biggest Halloween bash, returning each year to coerce those brave enough to play within the 3 mind-bending dimensions: WCKD Graveyard, WCKD Garden, and WCKD Fate. Each dimension is set to deliver hypnotic sounds across three stages of live entertainment. Upon entering, mysterious night stalkers will greet you as you make your way through the WCKD Graveyard. In the WCKD Garden, interactive experiences and scary photo opportunities await you. WCKD Fate features fortune tellers, tarot card readers, palm readers, and more freaky future-telling fun.
For the brave souls looking to elevate the hair-raising experience, WCKD Wonka VIP passes are available for just $100 through October 7th. Prepare for scary and sweet with a grotesque candy station, a life-size gameboard, and Instagrammable moments galore. With a VIP ticket, festival-goers can enjoy complimentary hard kombucha, WCKD Wonka VIP Lounge Access, 2 drinks, and more!
The General Admission Plus ticket starts at just $50 through October 7th. Amenities include access to the Haunted Hookah Hideaway, entry to a $3,000 cash prize costume contest, and all the selfie-worthy photo activations throughout the venue.
Transform your ghastly looks and party with the sinister past as the WCKD Village comes to life, bringing with it the most ruthless and seductive demons… For more information and to purchase tickets visit www.WCKDvillage.com.