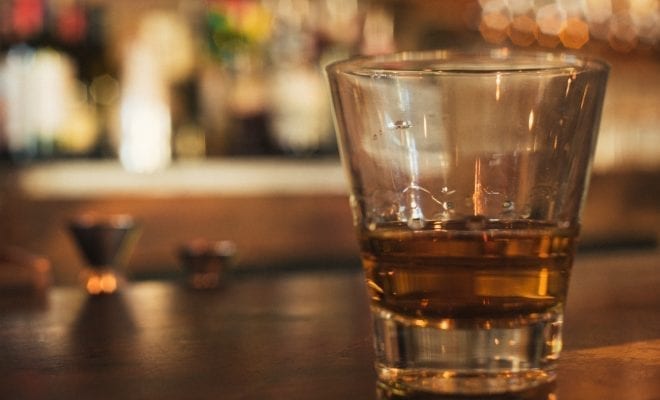 Jack Lungu Photography
Drinking
Whiskey Deals in North County
By
|
Whiskey has been an American tradition since the Revolutionary War. Surviving whiskey rebellions and prohibition, whiskey has stood the test of time as a great spirit, and once you've had a glass of really good whiskey, your life will change forever. But the good stuff can be pricey, so today we are going to highlight three watering holes where you can score a good deal on your favorite whiskey.
Encinitas is a melting pot of different lifestyles. Surfers climb the stairs to Swami's beach, yogis meditate on the cliffs above, and whiskey lovers congregate at Lumberyard Tavern. Located in South Encinitas, a short walk from Swami's beach, Lumberyard Tavern is the place to go for a great glass of whiskey.
Walking into the home of the USC Trojans is walking into a veritable man-cave, with wall to wall TVs and sports memorabilia while behind the horseshoe shaped bar sits their collection of 34 different whiskeys. There's a few different deals that they offer at Lumberyard Tavern. Every month they have feature a new whiskey for $6, and also offer a Dickel barrel aged Manhattan for only $10. But if you are a serious whiskey drinker, check out their Whiskey Club. Every year they have open enrollments into the club. There is a list of 70 scotch, bourbons and rye's that once you complete, you are entered into a drawing to win a trip to Kentucky to tour a few different distilleries. "It takes a bit of dedication to complete the list," says Craig, one of the bartenders at The Lumberyard.
Nestled in a corner of Village Faire in the heart of Carlsbad Village lies an eclectic eatery. The Compass. This bar and restaurant takes a spin on American classics, like bacon wrapped corn dogs and gourmet burgers, all served with a glass of whiskey
If you find yourself strolling the farmers market held down the street on Wednesday evenings, try stopping by The Compass for their Whiskey Wednesday deal that starts at 9pm. Every single whiskey in their 36 bottle collection is 25% off. From American standards like Bulleit Bourbon, or hand Crafted Hibiki, there is something for everyone!
"Half the bottles we have here at Compass are ordered by our regulars. We value the customers that know and enjoy a great whiskey," -Ty
Passing through floor to ceiling glass doors adorned with a giant compass rose, you find yourself in a wonderfully rustic bar with exposed brick walls and rough wood beams above the bar. Maps and deer antlers cover the walls and not a television in sight, The Compass is a perfect place provides an intimate atmosphere that you can relax and enjoy a great glass of scotch after work.
South Oceanside has been home to many great watering holes, and in 2015, Urge Gastropub & Whiskey Bank added its name to that list. Featuring an extensive whiskey collection and a variety of gourmet meals, probably the most stunning part of this gastropub is the intimidating two story bookcase of over two hundred and fifty different whiskeys from all over the world. They pour whiskey made in the Appalachian mountains and hills of Kentucky, from Japan and Taiwan and Canada.
With so many options, choosing your preferred whiskey can be a daunting task. Luckily, the guys over at Urge have made that easy for you by offering four different whiskey flights. Starting at only $20, they feature four different distilleries, selecting three unique whiskeys for you to sample. Right now they are featuring Jack Daniels, with their special Urge Common House Single Barrel whiskey, Russell's, Corsair and Knob Creek's 25th Anniversary collection.
Next time you find yourself on Coast Highway, stop in to any of these local watering holes and get your whiskey fix on the cheap!