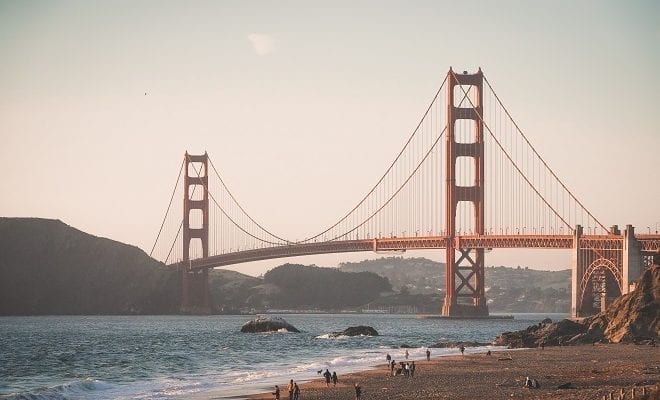 Drinking
Thirsty Thursday: The Golden Gate from Route 29
By
|
In the craft of bartending, presentation is everything. Inspired by Napa Valley, Route 29 brings to San Diego this show-stopping Golden Gate recipe, a fan favorite at the newly opened, trendsetting downtown destination. We teamed up the Gaslamps's newest eatery to share with our readers this innovative and flavorful drink.
Raise a glass to fresh fruity flavors, unique ingredients, and the art of the cocktail with this cocktail, a must-try. At this Napa Valley-inspired farm-to-table concept, prepare to be immersed in the essence of the wine country's iconic, rustic-modern vibes with wood, iron and copper décor and open-kitchen design.
The Golden Gate is just one of many on the impressive line-up of artfully prepared signature cocktails. Brought to life by experienced Venezuelan Bar Manager Marcelo Amaya, this photo-worthy cocktail combines organic tequila with passion fruit, organic turmeric ginger carrot juice, tart lime, and agave with the rich texture of egg whites for a vibrant appearance and well-rounded flavor unlike any other. Step into fall with this fruity yet earthy cocktail and impress your friends at your next dinner party – this one is sure to be a hit.
The Golden Gate
Recipe courtesy of Route 29
Ingredients:
1 1⁄4 oz Azuñia Blanco Organic Tequila
1 oz Passion Fruit
3/4 oz Turmeric ginger carrot juice
1oz Passion fruit
1/5 Lime Juice
1/2 oz Egg whites
1⁄2 oz Agave
Dehydrated Lemon for garnish
Instructions:
Put all ingredients in a shaker and dry shake first because of egg whites. (You will need to get the foamy egg white texture with all ingredients)
Add ice to the shaker and shake again until it has a cold and creamy texture.
Pour drink into a Golden coupe and finish.
Add three drops of Angostura bitters on top of the foamy layer.
Using a pick, slice through each drop to get a heart shape.
Garnish with a dehydrated lemon wheel and golden pearl pick.
Enjoy!