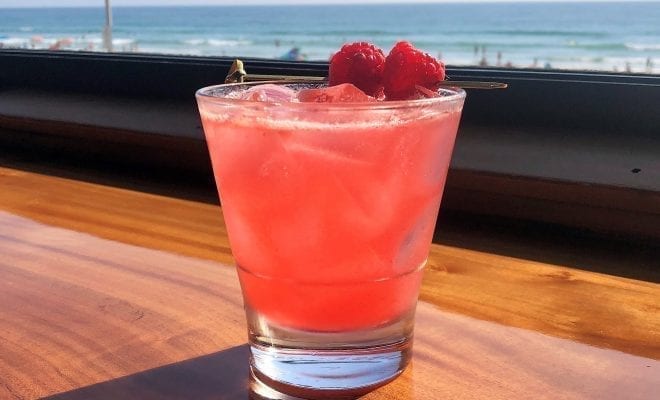 Drinking
Thirsty Thursday: Mermaids are Real
By
|
As the water warms up, San Diegans will be flocking to the shores to soak up the sun and frolic in the sand. On your next beachy adventure, sit back and sip on this spectacular summer cocktail, courtesy of our good friends at Waterbar. Their signature blend of ingredients suited to summer, thanks to the Mermaids Are Real cocktail! Made with blanco tequila and a mix of fresh flavors, this drink tastes a fresh as it looks – the perfect shade of millennial pink! Be sure to grab a photo with the killer sunset views outside of the Waterbar windows to create the ultimate San Diego summer post.
Waterbar's iconic view of Pacific Beach's oceanfront boardwalk is your summertime spot for a refreshing cocktail after a long day of mermaiding. Pair this cocktail with something from their spectacular "social seafood" menu items, like the Baja Crab Cake made with citrus-agave slaw, chipotle taco sauce, tortilla strips, cilantro, and Tajin. Or for all you mermaid lovers who want to make this cocktail in the comforts of your home, check out the recipe below.
Mermaids Are Real
Recipe courtesy of Waterbar
Serves: 1
INGREDIENTS:
1.5 oz. Herradura Blanco
.5 oz. agave
.5 oz. lime juice
4 raspberries
4 basil leaves
Splash of soda
INSTRUCTIONS:
Add all ingredients into shaker tin with ice.
Hard shake and strain into an old fashioned glass over fresh ice.
Top with soda water and garnish with two raspberries on a pick.