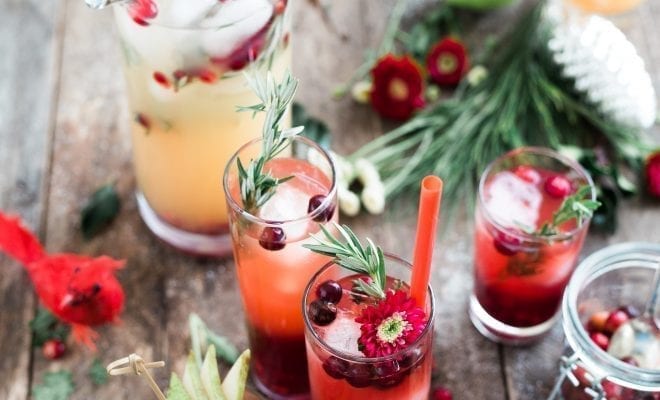 Drinking
Thirsty Thursday: Festive Cocktails to Spice Up Your Holiday Party
By
|
The holiday season is upon us, and this weekend will be filled with holiday parties, festivities, and gatherings. Some of you might be hosting these get-togethers, and if you want it to stand out from the many different parties people will go to this season, you're going to want to provide some memorable festive cocktails for your guests. Skip out on the traditional beer, wine, and liquor, and serve your guests some wonderfully crafted cocktails that are sure to be remembered. Check out these boozy Christmas cocktails everyone will love!
Dirty Snowmen
What's more cozy than a hot chocolate? A boozy hot chocolate.
Ingredients
1/4 cup melted chocolate for rim
1/2 cup chocolate shavings
1/2  pint vanilla ice cream
2 cup hot chocolate
1/2 Baileys
Whipped cream, for serving
Directions
Melt chocolate and chocolate shavings into separate dishes. Dip rims of cups into melted chocolate, then immediately dip into chocolate shavings

Scoop a few scoops of ice cream into each mug. Pour hot chocolate and Baileys on top

Top with whipped cream and enjoy!
Ginger Bee Sting
This ginger-lemon cocktail is the perfect blend of holiday flavors.
Ingredients
5 (1-in.) chunks peeled fresh ginger
1 c. water
1/2 c. honey
1/2 c. fresh lemon juice
pinch cayenne (ground red) pepper
pinch salt
6 oz. blended Scotch
Directions
In a blender, puree ginger and water.

Strain puree into a medium bowl and discard any leftover

Pour in honey, lemon juice, cayenne, and salt into ginger juice mixture and whisk lightly.

Stir in blended Scotch and serve over ice.
Cinnamon Rosemary Old Fashioned
An Old Fashioned is the perfect drink to warm up during the cold nights of the holidays, and this Old Fashioned has a wonderful festive spritz.
Ingredients
Cinnamon Rosemary Simple Syrup
1/2 cup honey
1/2 cup water
6 sprigs rosemary
3 cinnamon sticks
For the Cocktail
4 teaspoons cinnamon rosemary simple syrup
3 dashes angostura bitters
2 ounces bourbon
1 orange peel
rosemary sprig for garnish optional
Directions
In a small saucepan, combine honey, water, rosemary sprigs, and cinnamon sticks. Stir over medium heat. Bringing it to a simmer, stir until the honey has completely dissolved

Remove from heat and remove all rosemary and cinnamon sticks

When ready to make the cocktail, combine 4 teaspoons of the syrup and 3 dashes of bitters. Add bourbon, ice, orange peel, and stir.
Winter Sangria
This Sangria is full of fruity flavor, but still has a touch of Winter that makes it a perfect drink for your Christmas party.
Ingredients
1 bottle of sweet red wine
1 bottle sparkling cran-apple cider
2 clementines, sliced thin, peel on
2 granny smith apples, cored and diced
1/2 cup pomegranate arils
1 cup cranberries sliced in half
Rosemary to garnish each glass  
Directions:
Mix wine, cider, and fruit into a large pitcher

Cut a sprig of rosemary and lightly smash into into bottom of glass, then use a garnish on the top.

Serve over ice