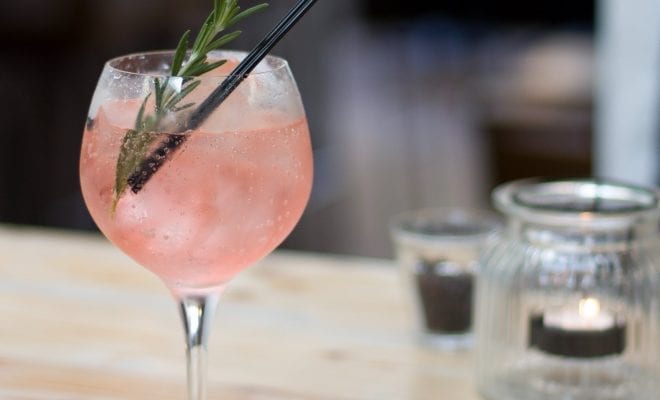 Drinking
Thirsty Thursday: Summer Cocktail Trends with Rob McShea
By
|
The official start to summer is a week away and we couldn't be more ready for some fun in the sun! Backyard barbecues and days spent at the beach are all some of our favorite things about the season, along with refreshing and delicious summertime sips.
And thanks to Grind and Prosper Hospitality Beverage Director Rob McShea, we know just what drinks trends we'll be seeing a lot of this summer.
"I think this summer will be the year of the Spanish style gin and tonic," says Rob. "These cocktails are also known as 'fancy gin and tonic' and are characterized by large, bulby wine glasses (called balloon glasses) and filled with effervescent cocktails, topped with a multitude of herbal and fruit garnishes."
Rob says that these Spanish-style gin and tonics are usually bright and refreshing and are perfect for outdoor gatherings!
"The 'Fancy Gin and Tonic' started appearing on menus late last year," notes Rob. "However, I'm really seeing momentum going into this summer as well."
Another beverage trend Rob thinks San Diegans will love is the rise of fruit beers.
"I think the emergence and popularity in the sour category of beer have refocused the brewing industry to change what the ethos of fruit beer can be," explains Rob. "Consumer palates have definitely reflected this trend, as the demand for them at spots like WhipHand have increased."
Rob says we can expect to see brews infused with fruit flavors such as blood orange, apricot, and other tropical tastes. These are prevalent in many different styles including IPAs, Murky & Hazies, and hard kombuchas like Juneshine's Blood Orange Mint, available at WhipHand's self-serve beer bank.
"Both these fancy gin and tonics and light, fruity beers are ideal for summer," says Rob. "They pair great with any plate of barbecue and don't leave you feeling bad if you have more than a few."