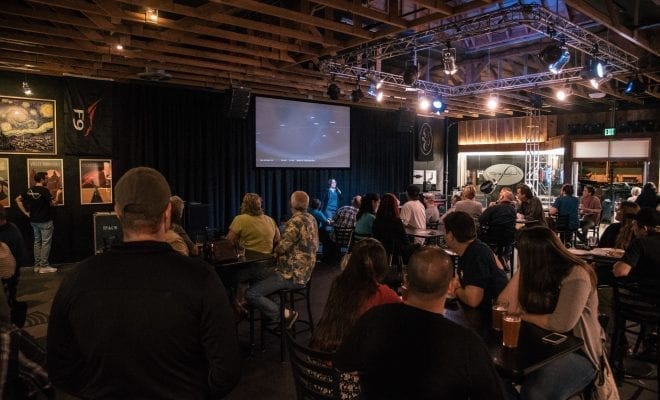 Jack Lungu Photography
Drinking
North County Brewery Highlight: Wavelength Brewing Company
By
|
Imagine a place of knowledge and learning. Where everyone is passionate about the most recent Space-X rocket launch, the latest CRSPR breakthrough or their
newest IPA. Does such a place exist? The answer is yes.
Situated right in the heart of downtown Vista, and founded in 2014, Wavelength Brewing Company has become a gathering place for beer lovers and intellectuals alike. Started by Hans Haas, Wavelength Brewing Company has fused science, passion, malted grains, and hops to take their beer to the upper echelon.
Wavelength has brewed everything under the sun. From orange IPAs, barely wine, and even a limited release of a malt liquor, Hans and Josh Smith, the head brewer, aren't afraid to push the limits of what is possible at a small brewery. Each of the beers that they brew is named after some sort of scientific concept or event. The Low Earth Orbit IPA is named after satellites caught in the earth's orbit just outside of the atmosphere, or the Octave Orange Wheat Ale, which is a shout out to the science that makes music pleasing to our ears. Most recently they released Parzivals Pale Ale which is an homage to the sci-fi novel Ready Player One by Ernest Cline.
Wavelength Brewing is really "The only brewery that you leave smarter than you walked in." says Hans, one of the founders. Not only does the crew behind the bar know everything about the beers that they have in stock, but on Friday nights, they host their weekly Science Talk. Sit down with a pint of Golden Note Czech Gold Ale and listen to a mini-lecture on topics that range from chemistry, astronomy, and particle physics.
Wavelength Brewing Company's blend of science, nerd culture, and beers worth writing home about creates a great atmosphere for people to connect over a good beer.