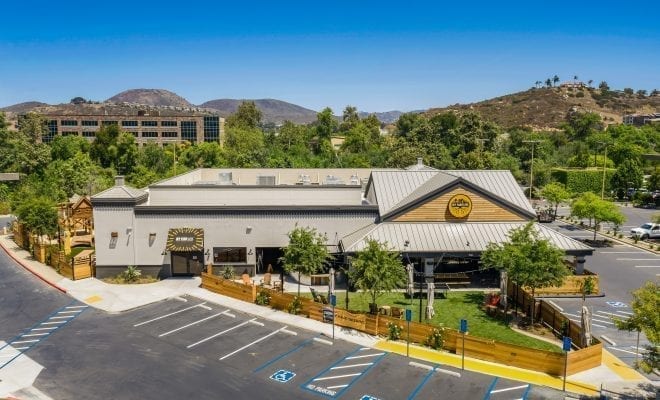 Drinking
My Yard Live: Where Brewery Meets Backyard BBQ
By
|
My Yard Live is the newest addition to North County's already stacked lineup of food and entertainment venues, and already, it has proven to be a top-tier experience. The huge 17,500 square-foot space makes it an ideal location for a family-friendly outing or an evening with friends. I had the pleasure of visiting this past weekend, and My Yard Live certainly lived up to my expectations. 
Right off the bat, you'll be taken aback by its size. The immediate inside dining area is accented with community-style tables, while a bar and lounge area provides additional seating. The outdoor area, however, is where My Yard Live really shines, with plenty of comfortable seating, including chairs around a cozy fire and outdoor bar seating. 
Entertainment is in no short order, with the inside featuring a wall lined with arcade games, shuffleboard, and an air hockey table. Near the bar and lounge, you'll find a stage where local artists jam out to live music. This particular night, Karlos Paez of the B-side Players was jamming out with some reggae and Latin funk, perfectly suiting a cool Friday night in North County. Outside, you'll find a kids area complete with a jungle gym, a ping-pong table, full-size shuffleboard court, and a secluded area with cornhole for some serious competition. 
My Yard Live's menu is centered around some serious BBQ fare, and oh man do they do it right. The Beef Brisket was melt-in-your-mouth delicious. It's tender, juicy, and paired beautifully with a sweet and tangy BBQ sauce. Along with my side of their Beer Battered Fries, the meal was both hearty and delicious – impeccably reminiscent of a backyard barbecue. 
As for the brews, My Yard Live has a respectable lineup of on-tap craft and a variety of bottled options as well. I started off with the Pupil, an American IPA brewed by Societe Brewing Company, then moved onto Pool Noodle Pilsner, which was easily my favorite of the two.
Breweries are a dime a dozen in San Diego, but very few have pulled off an atmosphere simultaneously suited for families and friends to come together and share in the good feelings of fellowship and community. My Yard Live displays a commitment to providing this kind of place, and I believe it is attributed to the resemblance of the good times we have shared with friends and family in our very own backyard barbecues. Regardless, My Yard Live is a very welcome addition to North County, and I suspect it will continue to grow along with this community as being a top spot for killer food, incredible beer, and good times.