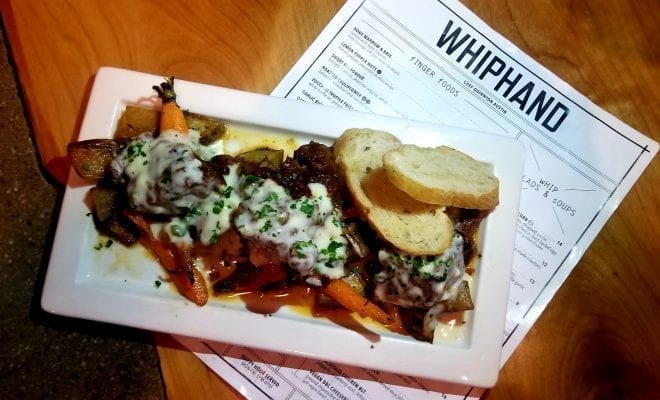 Dining
WhipHand: Getting the Upper Hand in East Village
By
|
Historically, a "whip hand" was the one you used to control horses from your stagecoach. Now, instead of controlling horses, your whip hand controls the beer pour at the new East Village eatery and beer haven. WhipHand has self-serve beer bank in addition to delicious, unpretentious food. 24 self-serve draft beer (plus cider and hard kombucha, like the refreshing blood orange-mint kombucha by JuneShine) tap means you can have your own beer tasting, or try out some of their fun, tiki-inspired cocktails.
Don't think of this just as a bar, though, Chef Quinnton "Q" Austin has cooked up a delicious menu that will be the real reason to return. Recommendations? Try ANYTHING they offer with short rib. From the same chef as Miss B's Coconut Club with their incredible ropa vieja, it should come as no surprise that his short rib, braised four hours and incredibly tender and flavorful, should also delight. For a new take on steak and potatoes, try the mouth-watering Short Rib Fondue, served with a white cheddar béchamel sauce. Or, get your short rib as one of the many options of "super fries," half off during happy hour from 3-6pm Monday-Friday. The Short Rib Pie a la Biscuit pairs the delicious meat with jalapeno and smoked gouda on top of a cheddar biscuit.
The seafood pie is massive, not an undertaking you should attempt on your own. Also popular options, the lobster roll is decadent with garlic butter and the WhipHand Burger has a signature short rib and ground beef blend for an extra tender patty.
While you might ring up a pretty tab with the self-serve beer bar (it's just too fun to try all the options!), the happy hour food specials are a slamming deal. At about $6 for a massive plate of loaded super fries (ranging from $5.50-$6.50 on happy hour) you'll happily keep that card swiping through all of the beer options on tap. Or, take advantage of the $6 house cocktail happy hour special with the Yezzus Candle, cognac, mescal, brown ale reduction, Campari, pineapple, and strawberry served in an Instagram-worth Kanye West glass.
WhipHand is located at 935 J St., San Diego, CA 92101.
Phone: 619.450.5515
Hours: Sunday – Thursday 11:00 AM -Midnight
Friday & Saturday 11:00 AM -2:00 AM