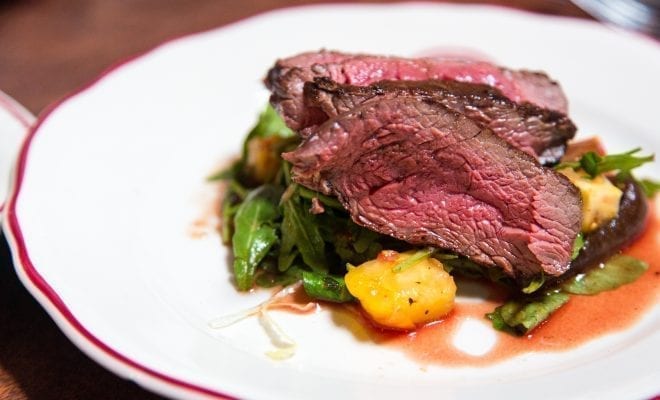 Dining
Top Steakhouses in San Diego
By
|
Hey you! Yeah, you. You've been working hard all week, and you know what? You deserve a nice dinner. If a steak dinner sounds good to you, we've done you a solid and rounded up some of the top steakhouses in San Diego for you to enjoy a marvelous night out.

Your search for delicious steaks is over upon arriving at Eddie V's. Known for their award-winning steak, you're sure to get only the finest dining experiences here. Each meal is prepared with the finest ingredients, and with an incredible selection of hand-crafted cocktails and wine pairings, each bite will be a truly wonderful experience.
Expect a wonderfully stylish departure from a traditional steakhouse upon entering the delightful ambiance of Greystone. Voted one of the Top 5 steakhouses in California, Greystone offers an incredible selection of Prime steaks, hand-cut Wagyu beef, and a eclectic variety of gamey meats. To accompany your meal, select from a variety of excellent wines that include some of the most exclusive and highly sought after vino in the world.
Be ready to enjoy the perfect ambiance and a delectable menu at Flemings Prime Steakhouse & Wine Bar. Each offering at Fleming's is inspired by amazing chefs with inspiration derived from fresh and locally sourced ingredients. Steaks at Flemings are only the very finest aged USDA Prime beef, like the Main Filet Mignon or the Prime Dry-Aged Ribeye.
Truluck's is truly dedicated to providing its patrons with the finest steakhouse dining experience in San Diego. One unique aspect of this establishment is their devotion to serving 100% antibiotics and hormone-free all natural beef, working exclusively with farmers who raise livestock traditionally and humanely. At Truluck's, providing customers with the best-tasting and sustainable ingredients is at the top of their list, and the menu they provide is indicative of this.
With a restaurant similar to that of a classic Chicago-style steakhouse, The Butcher Shop features some of the highest quality mid-westerns aged steaks you'll find in California. The Butcher Shop is known for their Angus Prime Rib, a slow-roasted slab of meat retaining its tender juiciness. Paid with an elegant and intimate setting, complete with dark wood paneling, comfortable leather, and a cozy fireplace, The Butcher Shop should definitely be your next dining experience.