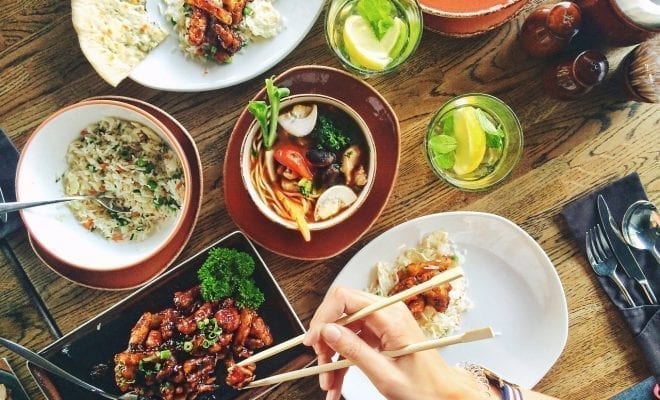 Dining
Best Chinese Food in San Diego
By
|
San Diego is a mecca for the hottest fusion cuisines, Instagram-worthy eats, and downright delicious restaurants – but sometimes, what's not broken doesn't need fixin'. Chinese food is a staple in this nation. From the moment the box that unfolds, releasing the scent and steam of chow mein, to the satisfying crack of the fortune cookie holding an obscure message inside, Americans can't get enough of Chinese cuisine. Luckily, San Diego has an excellent variety of delicious Chinese restaurants, each exploring the many different facets of this wonderfully diverse cuisine. If you're looking for some authentic Chinese food, you have to check out these restaurants.

This new hot pot concept restaurant is already wowing San Diegans for its unique way of enjoying authentic Chinese cuisine. You can choose from a spicy or non-spicy bone soup, along with a variety of meats, seafood, and veggies. Seriously, there are at least 50 choices. After you make your choices, an electric cooktop in the middle of the table is used to cook your own food, giving you the ability to truly be the master of your culinary creations.

This family owned and operated restaurant has been serving up authentic Chinese cuisine to San Diego since 1992. At Lucky Chinese Food, you'll find the very best in high-quality ingredients, with dishes that are loaded with flavor. The portions are nice and big, and the service is quick and friendly. Some must-try dishes are the orange chicken and the Mongolian beef.
Here, you're not going to find any western customizations to your dishes. Dumplings N More serves only authentic Chinese cuisine, the way it's meant to be enjoyed. They specialize in dumplings, baos, and noodle dishes, with fresh house-made dough daily. I recommend trying out the Beef bun with Spicy Wonton Soup, just know when I say spicy, I mean it.

From small plate tapas to big plate regional favorites, Shanghai Bun strives to provide its customers with authentic Chinese cuisine at affordable prices. They have a wide variety of beverage and cocktail selections, all of which are specially crafted with a Chinese flair. Some standouts include the Crispy Chicken Egg Rolls and the Pork Belly Sliders topped with hoisin sauce. Plus, every Tuesday, enjoy 25% off all Chinese Tapas!
This "American-style" Chinese restaurant offers a cool nostalgic experience with a menu full of both comfort and exotic flavors. You can head into the restaurant for a night out, or order for delivery. Either way, you'll know you'll be getting some delicious food. The Sizzling Black Pepper Beef is perfectly seasoned with a nice bite, and the General Tso's Chicken is deep-fried and covered in a thick sweet and sour sauce with dried red chili and peppers.