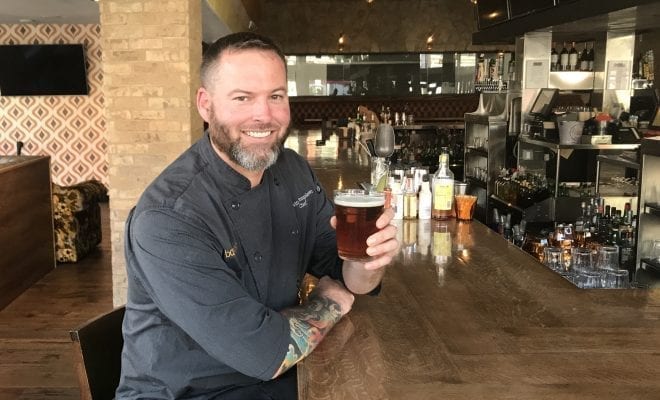 Dining
Tips for a Savory Holiday Feast from Local Executive Chef Kevin Templeton
By
|
Ah, my love for a holiday meal. It always puts a smile on my face to be surrounded by my favorite people, home cooked dishes and some awesome adult beverages. My personal favorite: bourbon.
Although I love all the classic sides: mashed potatoes, green bean casserole and stuffing, I'm going to switch things up for this year's Christmas dinner. I'm going to grill brown sugar ribs for my friends and family and accompany it with brussels sprouts, yams and mac 'n cheese. I also love dessert and you can't go wrong with a pumpkin crème brulee – it ties all the fall and winter flavors together, while serving up a lighter dessert.
After the big feast, I down a hefty shot of Wild Turkey Bourbon (tradition). This helps digest and helps continue the food coma process. Bust out the playing cards and throw on the game. Perfection.
Day-after leftovers have to be my all-time favorite. I love to layer a soup bowl with leftover meat from the ribs and the mac 'n cheese and bake it in the oven for about 30 min (or until hot all the way though). Top it a croissant roll, put back in the oven until browned and you're in business. YUM! Once again, try to prep as much as possible ahead of time so you aren't stressing before your holiday feast. Having each family member bring an item to the table is always a great way to ease the strain on the host as well.
Here are recipes to two of the dishes on my dinner table this year:
Brown Sugar Ribs
Recipe: The Smoking Gun
Ingredients:
4 each Baby back pork ribs (peeled)
16 oz Bacon fat
1 oz Brown sugar
1 oz Salt
1 oz Pepper
Instructions:
Generously rub both sides of each rib with sugar, salt and pepper. Coat each rib (front and back) with bacon fat.
Heavily wrap two ribs together in a ton of foil. Make sure that there are no holes or tear marks.
Throw on the grill (low heat) and flip every 5 minutes.
Cook for at least 30 to 40 minutes (or until ribs are fall of the bone tender).
Take the foil off and char a little more on the grill.
Eat dry or coat with your favorite BBQ sauce.
Pumpkin Crème Brulee
Recipe: barleymash
Yield 4 (6 oz. ramekins)
Ingredients:
6 yolks
2 cups heavy cream (divided)
1/3 cup brown sugar
¼ teaspoon salt
1 vanilla bean
1 teaspoon Cinnamon
½ teaspoon ginger
½ teaspoon allspice
2/3 cup Pumpkin Puree
Instructions:
place egg yolk in a bowl and set aside
place half the cream, brown sugar, and salt in a pot and bring to a simmer. Stir in vanilla and spices and allow to steep for 10 minutes (off the heat). Then add remaining cream and bring to a simmer again.
Temper into egg yolks and strain over an ice bath. Whisk in pumpkin puree. Allow to cool.
Measure into 6 oz. ramekins. Bake in a water bath at 300 for 30 minutes (rotating half way through)