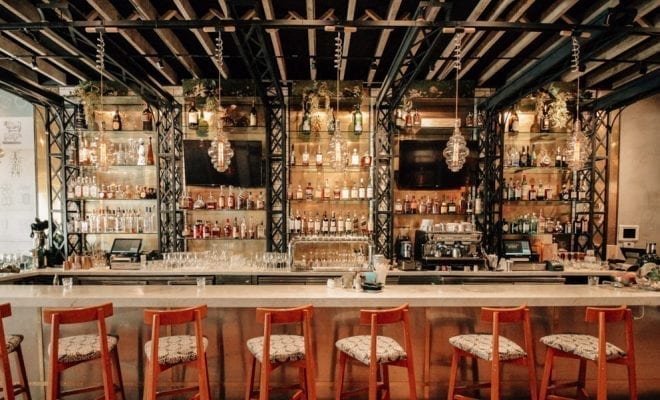 Dining
The Butcher's Cut Is San Diego's Newest Fine Steakhouse
By
|
The Butcher's Cut is a newcomer to the San Diego restaurant scene, opening its doors on Fifth Avenue. This contemporary grill and steakhouse exudes inspiration from the other fine dining establishments of the city, but The Butcher's Cut is already making a name for itself as an excellent restaurant. 
Inside, you're met with a casual yet wonderfully vintage and rustic atmosphere that will instantly take you back to a classic era. The renovated space is comforting with warm light fixtures and high ceilings, contributing to its warm and inviting design. 
One unique feature is the glass-walled meat locker installed on the restaurant floor. Showcasing the exceptional cuts of dry-aged meat available, this peculiar feature is a spectacle that must be experienced in person.
Speaking of meats, The Butcher's Cut takes pride in sourcing from the finest beef and lamb producers, ensuring each cut is of the utmost quality. All meats are selected from the highest pedigree and defined by breed and feed.
Standout cuts include a Signature Prime Rib, selected from 150-day grain-fed Back Angus, that has been dry-aged then carefully roasted in their special oven. The Butcher's Cut cut eye fillet on the bone is sourced from cattle fed on New Zealand's rolling grasslands, giving it supreme tenderness and a flavor that is truly unparalleled. They also offer American classics, like The One Pounder, a juicy double-cheeseburger topped with caramelized onions, provolone, avocado, applewood smoked bacon, and smothered with house-made aioli. 
In line with balance, The Butcher's Cut offers a seafood menu that is just as extensive as their meats. With locally sourced catches purchased daily, you can be sure you're getting exceptionally fresh fish with each meal. The Ahi Tuna is paired with wasabi, horseradish, and sesame seed crust, along with saffron cauliflower parsnips and sriracha soy. Another tremendous dish is the Salmon, prepared with spinach risotto, sauteed carrots, dill cream, and a lemon bordelaise emulsion. 
Propel your dining experience to new heights with one of their impeccable wine pairings. The Butcher's Cut offers an extensive wine list which spans the many renowned regions across the globe, each meticulously paired with an item on the menu. Their knowledgeable sommeliers can provide valuable insight into which wine will pair best with your meal. 
For dessert, you'll find sweet selections like a Limoncello Sponge Cake with Mascarpone and Butterscotch Budino. Their whimsical Strawberry Churro is a fun treat to end your night, served with vanilla bean ice cream.
The Butcher's Cut is a welcome addition to the ever-growing restaurant scene of San Diego, offering a robust, yet refined dining experience that is a must-try for your next night out.