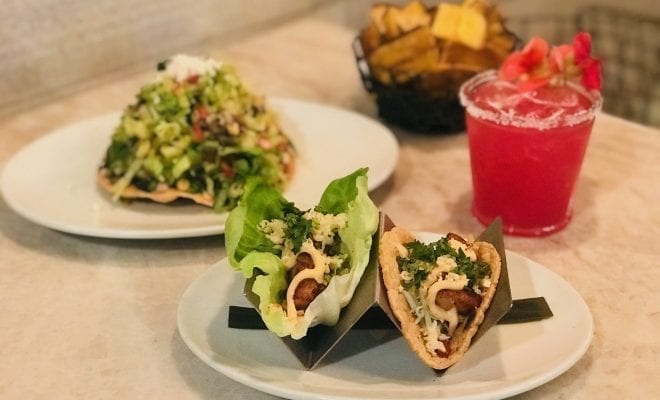 Dining
Tasted: Tocaya Organica in The Gaslamp
By
|
Did someone say churro ice cream sandwich? Oh, you betcha. Tocaya Organica, a fresh-casual modern Mexican concept, serves up some pretty sweet sweets alongside a menu suitable for vegans and meat lovers. Here, you can have your churro and eat it, too…? Sure.
Hungry folks can find a plethora of dining options along Fifth Ave like barleymash to go ham on some iron fries doused in cheesy goodness or De Medici to twirl pasta with one hand and sip wine with the other. However, Tocaya offers a fresh take for the lunch and early dinner crowd. All the ingredients and produce are organic and locally sourced. The décor is light and refreshing. You feel better after walking in – reinvigorated, even. Go ahead and practice your Ujjayi breaths while you wait for your black bean and quinoa bowl whilst sipping on a coconut ginger green tea. Best part is, veg heads can bring along their derelict, booze drinking, meat eating friends, and they'll fit right in. Those bad to the bone diners will be as happy as larks with a margarita and a pair of carne molida tacos topped with a little queso. Oh, and don't forget to order a side of the street corn. A bowl full of perfectly roasted kernels topped with cotija cheese and chipotle powder. Bomb.
Mamma always said to never skip dessert – best part of the meal. And nobody wants to disappoint mama, so the churro waffle sammy was a must. A heaping scoop of cashew-based ice cream is sandwiched between two churro waffles and drizzled with chocolate Nutella.
Check out Tocaya next time you're in The Gaslamp. 755 5th Ave., San Diego. 619.343.2898