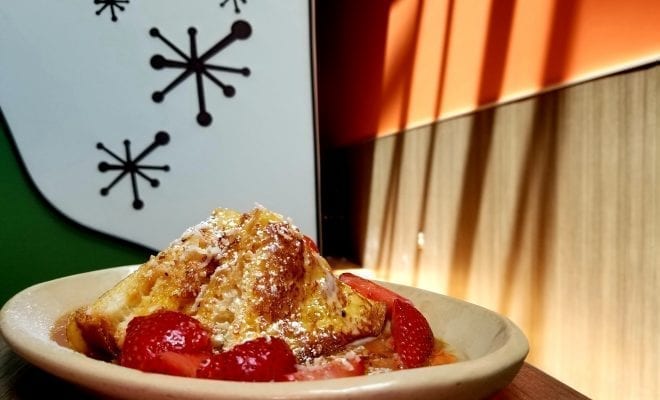 Dining
Snooze Introduces Sunny Summer Menu
By
|
Snooze, Hillcrest's well loved breakfast and brunch spot has just announced a few summery additions to its menu – a peppy new pancake, a bold new benny, and four new refreshing cocktails.
Snooze is known for their decadent pancakes, and their newest pancake addition does not disappoint. Summer's Starburst Pancake uses buttermilk lemon poppyseed batter and tops it with homemade lemon anglaise, macerated blackberries, citrus mascarpone and toasted almonds. I recommend getting this new pancake as one of three choices in a "Pancake Flight" to share with the table as a starter.
I prefer savory brunch options so I gravitated to the new Smashed Avocado Benny. Avacado sits on an English muffin and adds green chili, Parmesan cheese, vine-ripened tomatoes, poached cage-free eggs, and smoked cheddar hollandaise. Want a little more variety? You can make any two benedict options a "Benny Duo" – a half an order of two benedict offerings. I love the long-time favorite Bella! Bella! Benny. Toasted Ciabatta is topped with thin slices of prosciutto, Taleggio cheese, and poached eggs, complemented by cream cheese hollandaise, balsamic glaze, and arugula.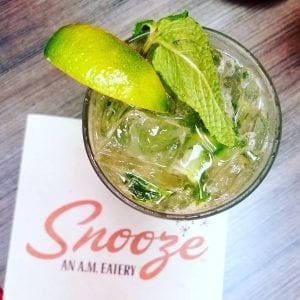 Weekend brunch is incomplete without morning cocktails and Snooze gives you incredible excuses for day drinking with lots of Bloody Mary options, coffee cocktails, and more. For summer, they are offering four new cocktails – a Sparkling Strawberry Mimosa, Shortkick Marg punched up with Jalapeño infused tequila & house-made Strawberry Jalapeño Puree, Snooze Summer Shandy, and my personal favorite, the Morning Mojo Mojito. This mojito adds green tea syrup for a breakfast vibe and is freshened up with plenty of cucumber and mint.
For anyone new to Snooze, get ready for a lengthy wait as the popular breakfast joint doesn't take reservations at any of their three San Diego locations (Hillcrest, La Jolla, and Del Mar). It is worth it though for the retro décor, affordable prices, and delicious food. One of the standouts for the casual eatery is the staff – Snoozers – who are incredibly cheerful, helpful, and friendly.