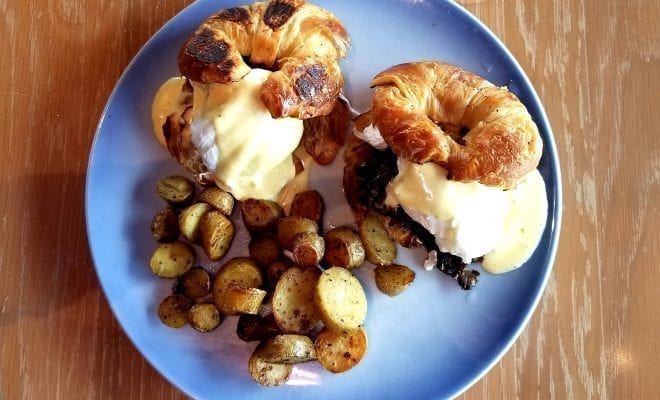 Dining
San Diego's Best Benedict?
By
|
New Bayside Brunch Menu Debuts
Manchester Grand Hyatt's signature restaurant Sally's Fish House & Bar has unveiled its very first brunch menu. The new "Bayside Brunch" has three reimagined versions of classic breakfast favorites.
For a sweet option, try the stuffed brioche French Toast ($15) with vanilla bean-mascarpone cheese, toasted almonds, fresh macerated berries and Vermont maple syrup, topped with powdered sugar. Or check out the chocolate chip dollar-stack flapjacks with vanilla anglaise sauce and Vermont maple syrup ($14).
But the real standout on the brunch menu is what may be the best eggs benedict in San Diego. Sally's house benedict ($18) joins perfectly poached eggs with pancetta-bacon, shallot-herb sautéed spinach, and a stunning Meyer lemon-orange hollandaise on top of a toasted croissant, served with breakfast potatoes. You can up the ante by adding blue lump crab ($8), short rib ($7), or seared ahi tuna ($8).
Bayside Brunch is available Saturdays & Sundays from 11:30 a.m. to 2:30 p.m.