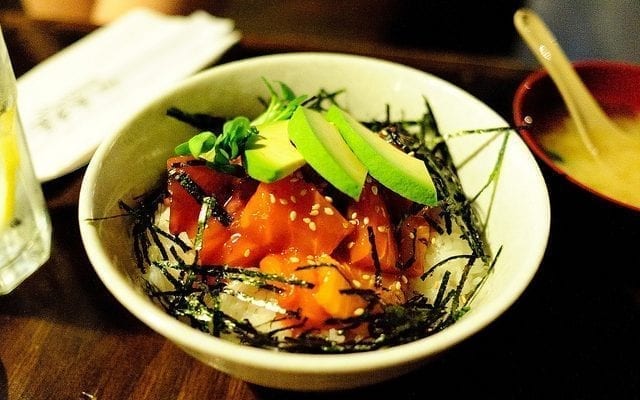 Dining
The Best Poke in San Diego
By
|
If you haven't hopped on the Poke wave, now is the time, as there are plenty of fantastic places for you to try this incredible dish. For those who don't know, Poke is a Hawaiian dish that includes rice and fresh, raw fish. Trending poke spots add a variety of toppings to make your poke bowl unique. Common toppings include anything from avocado to tempura crisps to add elements of texture. Here are some of the best places in San Diego you can check out to feed your poke cravings.
There's practically no shortage of options when it comes to creating your poke bowl at It's Raw. This spot serves traditional Hawaiin-style poke, and is probably the most authentic in San Diego. Their fish is fresh daily, and they let you sample different marinades. If you're tired of the usual salmon or ahi bowl, check out their Wasabi Ahi or Sesame Tako. This spot is cash only (ATM available inside).
A popular location in Oceanside, Teri Cafe serves a variety of Japanese dishes, but their salmon and ahi poke bowl are a favorite among the locals. This is a sit down restaurant, which is a little different from the usual quick, on-the-go poke joints, but this way, you get more time to really enjoy and savor each bite.
With locations in Carlsbad and Bressi Ranch, Fish District has a massive menu, but their poke bowls are one of the crown jewels. Their ahi poke bowl is made with the freshest fish, and is drizzled with sesame needs to get a nutty, rich flavor.
Previously a vendor at the Scripps Ranch Farmers Market, San Diego Poke Co. has grown to become one of the best poke eateries in San Diego. With location on Friars Road and Adams Avenue, their custom-created poke dishes have tons of options, including spicy tuna, albacore, and salmon, and can come with a house made truffle soy sauce that is to die for.
This fast casual poke restaurant is helmed by Chef owner Junya Watanabe, who brings a streamlined approach to poke bowls. The bowls here are accompanied by Chef Tony's famed Golden Ratio Poke Sauce, which is legendary among poke enthusiasts. Pokirrito has locations on Convoy Street and Little Italy, so be sure to check them out and experience this signature Chef Junya sauce on your fresh poke bowl.
If you're the kind of person that finds it hard to choose from all the delicious ingredients that goes into your poke bowl, Hi Poke has you covered. Head over to their location on W Harbor Dr. and choose from their special Ahi Poke bowls, including the Volcano Lava bowl, complete with a special Korean Lava sauce, or their Tropical Crunchy bowl, which which perfectly balances sweet and spicy.
Another poke joint located in Oceanside, Wicked Poke is famous for their Wicked House sauce, which is mixed with sesame oil, making it a favorite among locals and visitors alike. Plus, they have a variety of gluten free options!
Want to make your own Poke Bowl?
Our Food & Beverage Contributor, Michelle Stansbury teamed up with Tajima to bring you their signature recipe.
If you're looking for a light and refreshing meal, especially during this summer heat wave that has hit the city, a Poke Bowl is the perfect option to fill you up without weighing you down. The masterminds behind Japanese-food sensation Tajima has offered up the recipe to one of their most popular poke bowls. Since opening in 2001, Tajima has become San Diego's go-to spot for authentic Japanese cuisine and ramen dishes. Their Salmon Poke Bowl tops sushi rice with salmon, sesame seeds, seaweed salad, avocado, masago, green and white onions and tempura crunch to create this perfect summer meal.
Salmon Poke Bowl Recipe Courtesy of Tajima
Serving Size: 1
Ingredients:
1 cup, prepared sushi rice (short grain Japanese rice, mixed with vinegar, sugar & salt)
3 oz. sushi-grade salmon, cut into small cubes
2 tbsp poke sauce (available at Asian specialty stores)
1 tsp sesame oil
1/2 tbsp green onion, diced
1 tbsp white onion, diced
1/4 tsp Oroshi Ginger
1 tbsp Masago (the eggs of a small fish known as capelin)
2 tbsp seaweed salad
3 – 4 thin slices of avocado
1 tbsp tempura crunchies
A pinch of Kizami Nori, for garnish
Sesame Seeds sprinkle, for garnish
Instructions:
Combine salmon, white onion, green onion with poke sauce, sesame oil and oroshi ginger into a small bowl. Mix well and set aside.
Plate up the rice in a serving bowl.
Place marinated salmon on top of rice.
Arrange seaweed salad, avocado, tempura crunchies and masago on top.
Garnish with kizami nori and sesame seeds.