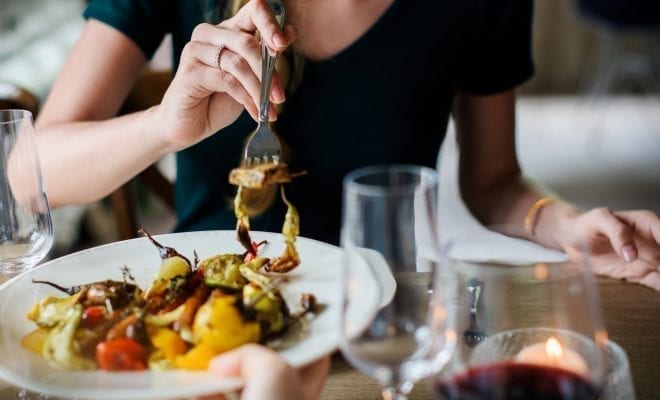 Dining
Savor a Unique Experience at Urban Solace
By
|
This modern American restaurant, is the perfect place to explore new foods in a trendy environment. Urban Solace is located in the center of North Park, and is one of the absolute best place to brunch in the city. Their "Bluegrass Brunch" is the perfect way to celebrate your Sunday Funday. Manager and head bartender Jesse Armer says, "I would say that we are a local, sustainable, chef-driven restaurant that focuses on high quality ingredients. We're known for the cinnamon role; it's only available on Saturday and Sunday and it's the most popular. We make those fresh every weekend. We won best cinnamon roll in San Diego last year, by the San Diego Reader."
Along with their fresh cinnamon rolls, this restaurant has amazing and diverse food and cocktails waiting for you to try. You can indulge in desserts, brunches, wines, and of course gluten free options as well. The food includes anything from cheese plates, to wild Mexican shrimp, to chicken and duck liver. The possibilities are endless, and the locals are obsessed with this vibe-filled restaurant. Jesse says, "We're definitely a neighborhood restaurant and the vast majority are local people that we see on a weekly basis."
With passion for hospitality, Urban Solace prides itself on hospitality, and making sure that everyone is taken care of. They love trying new things and enjoy creating foods that you may have never heard of, and that's the fun in it. Their passion for fun foods and hospitably combined, make for the perfect date night or family outing. They take pride in their food, and owner Matt Gordon is dedicated to living a lifestyle that attains healthy food, so he wanted his restaurant to be the same way.
They use the best quality food products, to create something special for you and your taste buds. You can explore new sandwiches, burgers, wines, and other unique foods that you thought you would never try. This restaurant also stays active, and is constantly coming up with new ways to keep the locals happy, and on their toes. Jesse says, "We are celebrating our 10-year anniversary and we have specials going Sunday through Thursday every week for the next month or so, we are doing weekly specials on Sundays, and every night is something different, rotating specific specials." This is the perfect time to try something new, and explore new foods, while indulging in special desserts and wines.
Along with this event, there are other events coming up that Urban Solace is providing for the San Diego locals. At the Solace & the Moonlight Lounge, the sister restaurant to Urban Solace, you can have a special date night with special 3 course meal that you won't be able to stop thinking about once you've experienced it. You can also experience the infamous Bluegrass Brunch on Sundays that are complete with live entertainment, starting at 10am.
This special restaurant cares about what food you eat, and the experience that you have. Enjoy a night out at your new favorite spot, and be a part of the family filled environment.