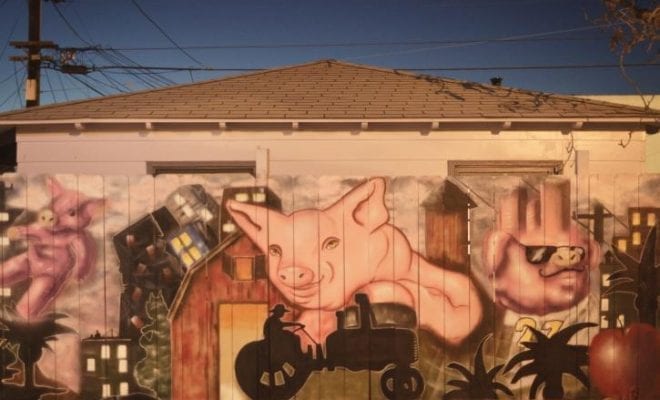 Courtesy Photo
Dining
Carnitas' Snack Shack: San Diego's Favorite Al Fresco Pork House
By
|
San Diegans love their food – and they know where to go for exactly what they are craving and exactly what vibe they are seeking because basically, they are all local #foodie experts. Equally strong as their food obsession, is their goal to be outside as much as possible. Why else would you choose to live in a city with a mild, sunny climate almost every day of the year? To take advantage of this, most restaurants in San Diego offer half indoor, half outdoor dining, if not fully outdoors.
Carnitas' Snack Shack is a favorite grub spot amongst locals and tourists alike, not only for their all-pork everything drool-worthy menu, but for their two unique takes on al fresco dining. Both locations offer fun, no-fuss environments where it's easy to lay out, and pig out (pun intended).
The original North Park location on University Ave. has been a staple for San Diegans since it opened in 2011. Don't be fooled, the seemingly "hole in the wall" appearance from the street opens up to a large "backyard" that offers a hip and cozy place to hang out. The pig-graffitied fences are the perfect backdrop for the Instagram-worthy, pork-centric dishes. Wooden walls, planters and picnic-style tables deliver a casual atmosphere, well accompanied by corn hole, giant Jenga and other outdoor games. In bustling North Park, guests remark that this is a great place to enjoy a sports game over some serious grease or to fuel up before heading out to a concert at The Observatory. Either way, San Diegans are super loyal to this spot for the easy environment and the guarantee of leaving with a full, happy belly.
The Embarcadero location offers a very different vibe from North Park, yet still masters the al fresco dining experience sought after by San Diegans. The downtown Shack, which launched in Spring 2016, opens up to panoramic views of the San Diego Bay on one end, accompanied by downtown skyscrapers on the other end. From cruise ships entering and exiting, to sailboats drifting off into the sunset, the Embarcadero is truly a place for tourists and locals alike to be fully entertained and enjoy what San Diego is all about. An all-outdoor spot, this Snack Shack also offers live music every Friday-Sunday and heat lamps to keep it cozy on one of those very rare chilly days in San Diego. Though the Embarcadero is a more common Shack for tourists, the location is buzzing with pedestrian activity (aka the best people watching for locals) and vibrancy from its surroundings.
If you have yet to experience the Snack Shack, be sure to check it out…on a completely empty stomach. Their infamous Triple Threat Sandwich is stacked high with pork loin schnitzel, pulled pork, bacon, pepperoncini relish and shack aioli. Pair this with Carnitas Queso Fries (topped with carnitas) for the ultimate pigging out experience…it's no wonder all the employees wear t-shirts that say "Vegan Gone Bad". Game-goers can also catch Carnitas in left field at sections 128 & 228 at Petco Park.
For more shots of their al fresco dining area, views, and one of the most mouthwatering feeds, check out their Instagram @carnitassnacks.