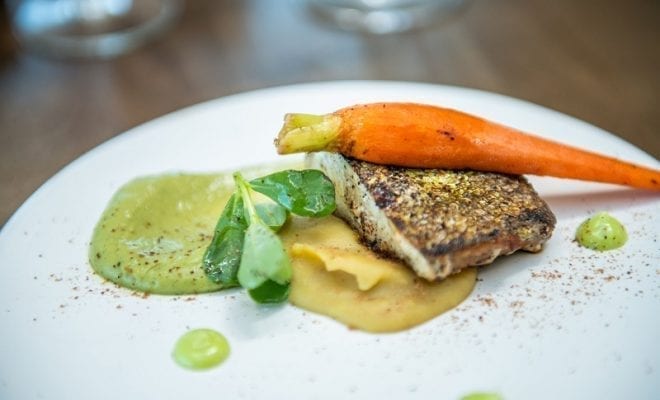 mahi mahi Once Pueblos, Courtesy Photo
Dining
Salud to Valle
By
|
No plans for a day or two and have your passport handy? Cool. Get in your car and head down to Valle. This Baja village is any wine lover's playground – and just under two hours from the border, there's no excuse not to visit.
Valle de Guadeloupe – aka Mexico's Napa – is a treasure trove of grapes and good food. Mexican wine is the obvious frontier, but varietals of French, Spanish and Italian wines are affluent. And the chefs? They're doing amazing work. Visitors often flock to find the big names dominating the food scene like Drew Deckman and Javier Plascencia, who are phenomenal. But new and notable spots have emerged from the vineyards since Food & Wine Magazine published its last "Where to Eat and Drink" guide on Valle.
Last month, I zigzagged my way down the coast to eat good food and drink wine with friends. We found a few new spots and tangoed with some familiar ones. Met a couple chefs and fooled around with reds, whites, and bubbles. Okay – and maybe some mezcal slipped into the mix. When in Rome? Anyhow, don't miss these new top hits on your next tour de Valle:
Where to Stay:
Situated off a dirt road is one of Valle's newest spots to rest your wine-saturated soul: Agua de Vid. Stay in one of their standalone glass and concrete pods. They have an edgy, shipping container kind of look. Exposed piping and Edison bulbs give this place an industrial feel, while the locally-sourced lavender scented lotion and soft linens add warmth. Agua's twinkling three-story restaurant offers great food and a fantastic wine list. The atmosphere – magical. Finish the night upstairs with a little dancing and some mezcal before calling it.
After a day of wine drinking, mornings can be rough – but not here. Dunk your head in the pool before making your way back over to their restaurant. You can find hair-of-the-dog ailments here and a hot meal. People are nice and the food – incredible. The crew became my friends and my doctors over a 24-hour period. The panoramic mountain view surrounding the grounds is pretty epic, too. What more can you ask for?
Instagram: @aguadevid
Facebook: Agua de Vid
Address: Parcela 69, Ejido el Porvenir, Baja California, Mexico
Where to Eat:
Female chefs are spicing up the flavors of typically male-dominated Valle kitchens and Chef Sandra Vasquez is one of them. A graduate of Tijuana Culinary University and chef of the newly-opened Once Pueblos, Vasquez is a boss. She's introducing her native Michoacán cuisine, often considered the soul food of Mexico, to the region but adds her own refined twist to each dish. And damn, is it good. The sopa de corunda is earthy, rich and somewhat sweet from the triangular tamal bathing in the middle of the tomato-based broth. Oh, God. Then there was the Mahi Mahi. A crispy, salty skin housed most of the flavor while the fish rested on a bed of avocado puree and mashed fava beans. Simple. Delicious. Pair everything with a glass of wine and you're good to go. I fell prisoner to the Vinos Martlot Ilusión de Amor after it touched my lips and continued to pair it with the dishes that followed. I'm a sucker for a good red wine – I tell you what.
The best part of the experience was talking to Chef Vasquez after our meal. She's humble, warm and extremely welcoming. And, my God, does she know how to cook.
"This space is yours. I'm just here to make it a little more enjoyable for you." – Chef Sandra Vasquez
Where to Drink:
Designed by architect Alejandro D'Acosta, this wondrous wine sanctuary boasts that over 90 percent of materials are reclaimed from the region. Reused glass wine bottles are integrated into windows while paintings hang in the cellar where the barrels are stored. Exposed rock, stone chairs, and creative design make this spot a must on the list. No complaints about their grape juice – they pour the good stuff. And yes, this one is included on the Food & Wine article, but sometimes you return to what you know when you know it's worth it.
Instagram: @clos_de_tres_cantos
Facebook: Clos de Tres Cantos
Address: La Ruta del Vino km 89.5, Ensenada, B.C.
We hit up this spot right just before sunset and gathered together around a picnic table outside. Tastes of tempranillo and cabernet were poured while we took in the views under a terrace. Miles of dusty roads and rolling hills surround this quaint and botanical piece of paradise. Cats and dogs were roaming around our feet and it was perfect. And the wine? That was damn good, too. The romantic notion of cata de vinos – a Spanish term used to describe wine tasting – was heightened by floral surroundings and the golden sunset. Finca has over 40,000 vine plants, which allow them to produce ecologically-friendly wine. Bottom line, this place is good for the soul. Go here.
Instagram: @fincalacarrodilla
Facebook: Finca La Carrodilla
Address: Parcela 99Z1 P14, Ejido El Porvenir, 22755 Valle de Guadalupe, B.C.