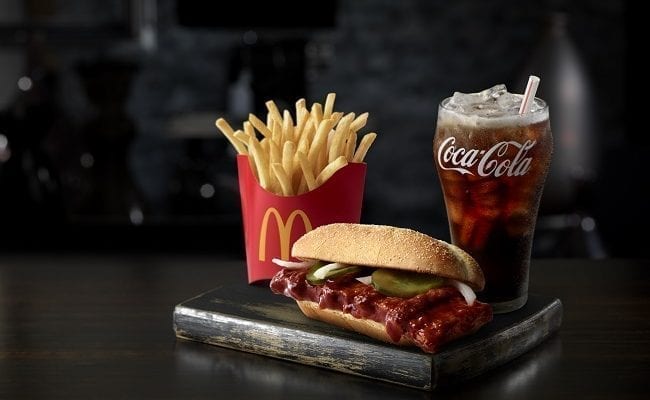 Dining
To McRib, or Not To McRib, That's the Question
By
|
The McRib makes its return So Cal McDonalds' for a limited time, starting today.
The sandwich is made with seasoned boneless pork, McDonald's signature McRib sauce (a sweet, tangy, barbeque-style sauce), and is served with dill pickles and fresh slivered onions on a toasted hoagie-style bun. It was first introduced in 1981 as a promotional item, became a full-time menu item, then in 1985 it was pulled from all menus. Nearly 10 years later, in conjunction with the release of 1994 movie Flintstones, McDonald's brought back the McRib because it looked similar to the rack of ribs that topples the Flintstones car. Each time the McRib comes back, people get in a tizzy.
No need to call dibs. #McRib is BACK November 2nd! pic.twitter.com/GjtjPqg4ff

— McDonald's SoCal (@McDonalds_SoCal) October 30, 2017
The phenomenon of the McRib lies in the fact that people love the sandwich and will go to crazy lengths to get one. What keeps the interest alive? The sandwich is only available every so often which keeps fans' taste buds on high alert. If you are one of the die hard fans of the McRib, go and get your fill now because it will be off the menu soon enough.
But should you bother? In this writers's humble opinion, the answer is definitely no. A few years back, I ventured to the local Mickey-D's to try what the fuss was about. After looking at the nutrition facts (480 calories and a whopping 22g of fat), my friend and I decided to split one. That was the best decision we made all day. The meat was a gelatinous blob of meat that didn't resemble the animal it came from.  The sauce was sweet and overbearing, and the bread fell apart under the pressure. We were glad to have saved a couple bucks and, if my memory serves me right, we didn't finish our respective halves.
After surveying a few Twitter posts under #McRib, it seems people are generally excited. If you can explain to me why, please feel free to let me know.
Want to try for yourself? This year, it'll be even easier. Well, maybe…. Use the McRib Finder app on iOS and Android to find a sandwich near you. We tried it and there were none to be found in San Diego County as of 11/2. By 11/3, there were a few spots found:
9440 SCRANTON RD, SAN DIEGO
8770 LAKE MURRAY BLVD, SAN DIEGO
1110 3RD ST, CHULA VISTA
Head to your local McDonald's to see for yourself. McDonald's is also partnering with UberEats, so you may be able to skip the line and get a McRib delivered right to you. Good luck tracking one down, if you choose to take on the challenge.