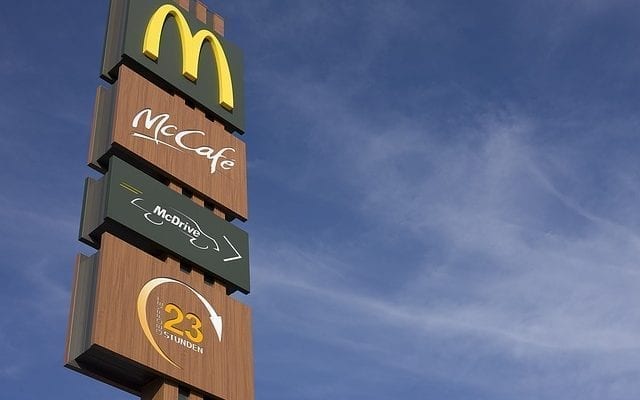 Dining
McDonald's Pulls Salads from Thousands of Restaurants as Parasite Outbreak Worsens
By
|
McDonald's has stopped serving salads at over 3,000 restaurants in 14 states after reports linked the meals to an outbreak of intestinal parasites known as cyclosporiasis. This intestinal illness is caused by a single-celled parasite and has surged in recent weeks after several cases were traced back to McDonald's by several state departments of public health in Illinois and Iowa. According to the Wall Street Journal, 25% of the 90 cases of cyclosporiasis in Illinois were found to be linked to McDonald's salads, while 15 cases have been linked to salads in Iowa.
Cyclosporiasis is caused by the Cyclospora parasite and is commonly found in developing countries. However, it has been increasingly affecting Americans during the warmer summer months. Humans contract the illness after eating fresh produce contaminated with the parasite, usually from coming into contact with human fecal matter. However, unlike many other food-borne illnesses, this parasite can take a week or more before symptoms begin to manifest. Symptoms include diarrhea, weight loss, nausea, and fever, and can last for a few days to several months if left untreated.
In response, McDonald's has stopped serving salads in thousands of their restaurants out of what they describe as "an abundance of caution." McDonald's said in a statement "We are in the process of removing existing lettuce blend from identified restaurants and distribution centers – which includes approximately 3,000 of our U.S. restaurants primarily located in the Midwest." Along with Illinois and Iowa, McDonald's has ceased shipping salads to restaurants in Indiana, Wisconsin, Michigan, Ohio, Minnesota, Nebraska, South Dakota, Montana, North Dakota, Kentucky, West Virginia, and Missouri.
Standard treatment using antibiotics can be effective in wiping out the infection quickly, and most people with healthy immune systems can effectively recover without treatment. However, the CDC says that anyone with diarrhea for more than three days to contact a healthcare provider for more effective treatment.
This is the second widespread outbreak of a parasite from chain-based restaurants in the U.S. in the past few years. Recently, lettuce served at Chipotle was found to be contaminated with e.coli, resulting in hundreds of people falling ill, with several people nearly dying.