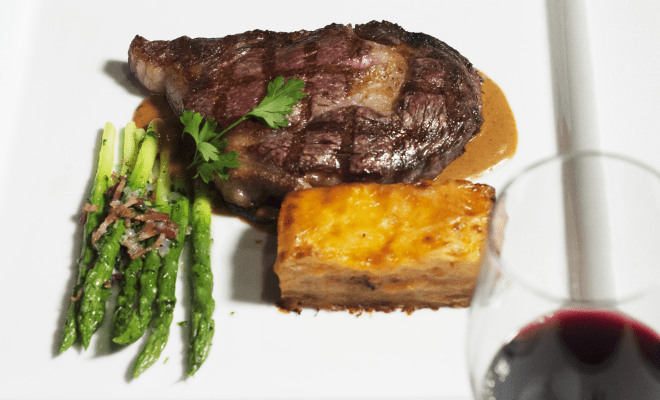 Dining
San Diego Chefs: King Beef Ribeye from Bellamy's Restaurant
By
|
The San Diego Entertainer is back at Bellamy's Restaurant in Escondido once again to introduce you to the best food that San Diego has to offer.
This week, we met up with Chef Jonathan Freyberg once again to learn how to make one of Bellamy's specialty dishes, the King Beef Ribeye with Delmonico Potatoes, Bacon Asparagus, and a Whiskey Peppercorn Sauce. Watch the video below!
Executive Chef, Jonathan Freyberg begins the dish by explaining that they peel and grate Yukon Gold potatoes for their Delmonico potatoes. The potatoes are then layered with cheddar cheese and caramelized onions and baked for approximately an hour and 15 minutes until golden brown.
For the asparagus, the chef gives them a light peel, followed by blanching them in salted water. The asparagus is then finished off with a sauce mixture of bacon, butter, shallots, garlic and parsley tossed together.
After plating the potatoes and the asparagus, the chef lays down a bed of Shiitake Mushrooms, which come from the local Mountain Meadow Mushroom Farm. The mushrooms are sauteed with butter, shallots, garlic and parsley.
The chef then moves on to explain that before the star of the show, the King Ribeye is laid down, the dish is layered with Bellamy's signature sauce.
"We finish the dish with a nice serving of our whiskey peppercorn sauce"
Jonathan concludes the meal by placing the grilled 13 ounce King Beef Ribeye which is lightly seasoned with salt and pepper, on top of the shiitake mushrooms.
Stay tuned for more Chef Specials as the Entertainer continues to unravel the world of food and beverage of San Diego.
Bellamy's is located at 417 W Grand Ave, Escondido, CA.