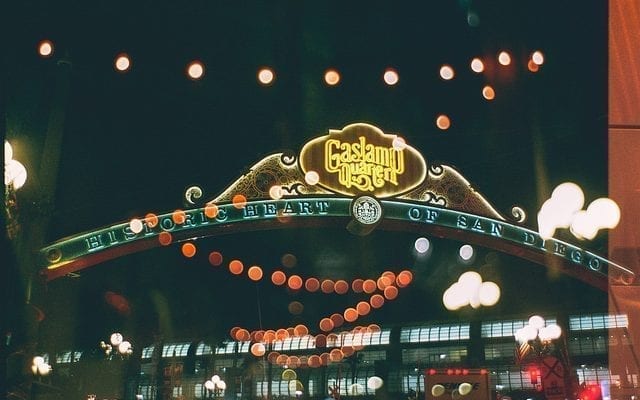 Gaslamp District by Eric May via CC 2.0
Dining
First Taste: STK San Diego Review
By
|
Most people know STK as a hip, modern steakhouse from the Las Vegas strip, located in the Cosmopolitan hotel. The new location in San Diego's Gaslamp Quarter brings some Las Vegas flash (lounge lighting, in-house DJ) while incorporating local flavor and inspiration. About 70% of the menu is consistent with other STK locations and about 30% is specific to San Diego, created by San Diego Executive Chef Dave Burke.
Everything about STK is sexy, from the art on the walls to the Dom Perignon served by the glass. White leather booths are designed to let you see and be seen. But while many places would rely on their hip scene to fill seats, STK ensures that the quality of food and exception service remains their focus, with a rare attention to detail.
It may be almost three years that we've been waiting for STK San Diego to open, but it is worth the wait. In the meantime, they've gotten their dishes and presentation down to a science. Their popular grilled octopus, for example, is braised for 1 hour and 47 minutes exactly, for a velvety texture to the tentacles. Another standout specific to San Diego is the Wagyu Carpaccio with truffle parmesan crisps, capers, purple watercress and Temecula cold-pressed oil. The flavors work perfectly in the light but decadent dish, highlighting the tenderness of the wagyu.
STK has their own cows and butchery near Chicago, with their cattle grass-fed and then corn-fed the last three months. The Beef Tartare is a classic STK dish, served with kimchi aioli and perfect soft boiled egg. The Sea Scallops, a West Coast-only starter, is served with a flavorful wasabi cauliflower puree, pea tendrils, and nori vinaigrette. The consistency of the scallops are perfect, their freshness unimpeachable. The wasabi cauliflower puree was delicious and packed with flavor, but may overpower the scallops.
STK's signature steak is the dry-aged 14 oz. Delmonico, a bone-out ribeye aged 45 days. It is often recommended "Oscar" style with Alaskan King Crab and asparagus, but with steak this good, it isn't needed. Tasting the flavor of the angus beef pumped up by the dry aging process is like going your whole life seeing only in black and white, and then experiencing color. It makes the steak… steakier, in a way that is hard to describe without trying for yourself.
Don't neglect your sides, I highly recommend the Jalapeno Cheddar Grits that brings all the flavor of Jalapenos to the fluffy grits, with none of the spice. Also popular are the tator tots, made in an involved process that includes letting baked potatoes sit for a day before mashing with four cheeses (fontina, white cheddar, parmesan, and gruyere). The mash is rolled and then chilled before cutting into chunks to fry. These are definitely not your mom's tater tots!
For dessert, the Vanilla Cheesecake is anything but boring, with a lemon meringue twist. Splattered blueberry and cotton candy accent the tart and creamy dessert. The showstopper, though, is #thecloud, cheekily admitting how Instagramable it is. Underneath a giant cloud of cotton candy is white chocolate cremeux, angle food cake, and strawberry ice cream. The cotton candy is blowtorched tableside, revealing the dessert underneath.
For cocktails, try the popular Cucumber Stiletto that goes well with the lighter starters. Perfect for summer, it combines Ketel One Citroen with St. Germain, cucumber and mint. Also delicious is the Strawberry Cobbler martini, muddling Belevedere with fresh strawberries, topped with a graham cracker rim.
Compared to last year's big steakhouse opening of Born and Raised, STK triumphs in one important way that Consortium Holdings stumbled – service. From hostesses who seat you promptly at your reservation time to servers that are not only knowledgable and well trained, but perfectly timed and attentive, the service at STK is outstanding. While there are fewer tableside fire theatrics at STK, they are performed by a trained chef who ensures quality and consistency along with the exciting presentation.
While the price tag is hefty at STK, you may have some small relief in not paying $7 for their famous pull-apart bread topped with blue cheese butter – its complimentary. And look for Social Hour discounts, STK offers a happy hour from 3:30-6:30 p.m. on weekdays.
STK is located at 600 F St., San Diego, CA 32101. For more information and reservations, visit their website, or call (619)-354-5988.