Dining
Easter Recipes for Home Cooks
By
|
Easter, which falls on Sunday, April 21st, is this weekend and if you haven't yet started planning your menu, we've got you covered! Whether you're inviting friends and family over for a mid-day brunch or hosting dinner, you can rely on these recipes from San Diego restaurants to truly impress your guests.
Pancakes are a must-serve brunch item for any Easter Sunday gathering and The Lazy Hippo, located in the Gaslamp District, has some of the tastiest in the city. The below recipe calls for blueberries, but you can substitute with bananas, chocolate chips or any of your other favorite toppings!
Blueberry Chia Pancakes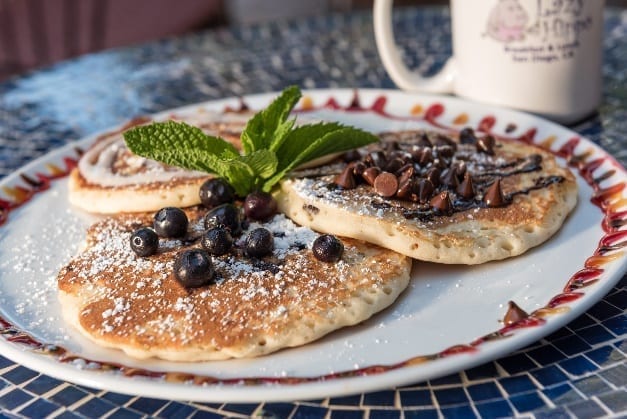 Recipe courtesy of Lazy Hippo
Serving Size: 8 pancakes
Ingredients for Pancakes:
½ cup whole wheat flour
1 tsp. baking soda
¼ tsp. salt
2 eggs
2 tbsp. plain yogurt
2 tbsp. honey
½ cup of milk
2 tbsp. chia seeds
Ingredients for Topping/Yogurt Icing:
2 tbsp. plain yogurt
juice from 1 lemon
1 tsp. lemon zest
¼ cup blueberries
Instructions:
Combine flour, baking soda and salt in a bowl.
Add eggs, honey, yogurt, and milk, and whisk everything together. Stir blueberries into the batter or simply top when finished! Last, stir in chia seeds.
Heat a nonstick skillet over medium and pour a small amount of batter into skillet, forming a pancake.
Wait until batter starts bubbling and use a spatula to flip pancake over. Cook on both sides and repeat the process until batter is gone.
For the topping – place yogurt in a bowl and stir in lemon juice and zest. Drizzle pancakes with yogurt mix "icing" and blueberries.
Honey-glazed ham, roasted lamb and scalloped potatoes are all excellent choices to serve for Easter dinner, but what about the sides? Prepare this Agave Cornbread, straight from the kitchen of barleymash and The Smoking Gun's Chef Kevin Templeton, and all your dinner guests will be asking for the recipe.
Agave Cornbread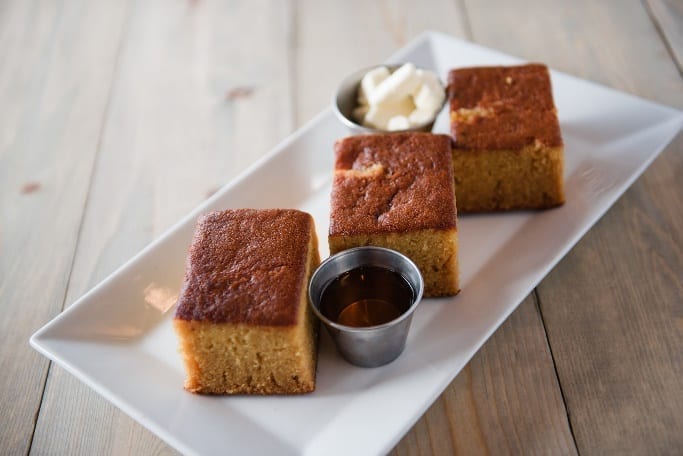 Recipe courtesy of Executive Chef Kevin Templeton
Serving Size: 6
Ingredients:
2 ears fresh corn
½ lb. butter
5 tbsp. agave syrup
2 cups sifted all-purpose flour
2 cups cornmeal
1 ½ cups sugar
1 tsp. baking soda
1 tsp. salt
4 large eggs
2 cups milk
4 tbsp. hard cider or apple cider
Instructions:
Remove husks and silk from corn and place on a hot grill or stove (in a pan).
Grill for 8 – 10 minutes or until kernels are lightly charred, rotating occasionally to ensure an even roast.
Remove from grill/pan and let cool. Cut kernels off cob and set aside.
Preheat oven to 325 degrees and generously coat a 9-by-13-inch baking pan with nonstick cooking spray.
Melt butter in a small saucepan over medium heat, swirling the pan occasionally to ensure even cooking. When butter has turned a toasty-brown color, remove from heat and set aside to cool slightly. Stir in agave syrup until dissolved.
In a large bowl, combine flour, cornmeal, sugar, baking soda, salt and corn. Break eggs into a bowl to catch any shells. In a large pitcher, whisk together eggs, milk and cider.
Whisk wet ingredients into dry. When almost incorporated, whisk in cooled butter mixture.
Pour batter into prepared pan and bake for 30 – 35 minutes, rotating pan halfway through, until a skewer inserted into the center comes out clean.
When planning any holiday meal, it's always helpful to have a "throw it together" salad recipe to lessen the burden of creating multi-step dishes. It's also nice to have on hand, in case the food starts to run low or unplanned guests arrive! And thanks to OMG Hospitality Group's Corporate Chef Daniel England, you now have a delicious and easy-to-make Watermelon Salad recipe.
Watermelon Salad
Recipe courtesy of Chef Daniel England
Serving Sizes: 4
Ingredients:
4 lb. watermelon, large diced
4 seedless cucumber, diced
8 red radishes, shaved
4 handfuls of mint, chopped
4 Thai chilis, minced
4 handfuls of Thai basil, chopped
4 tbsp. toasted cashews, chopped
20 tbsp. fish sauce
8 limes, juiced and zested
4 tbsp. toasted sesame seeds
Directions:
Toss ingredients together in a bowl and voila – it's that easy!