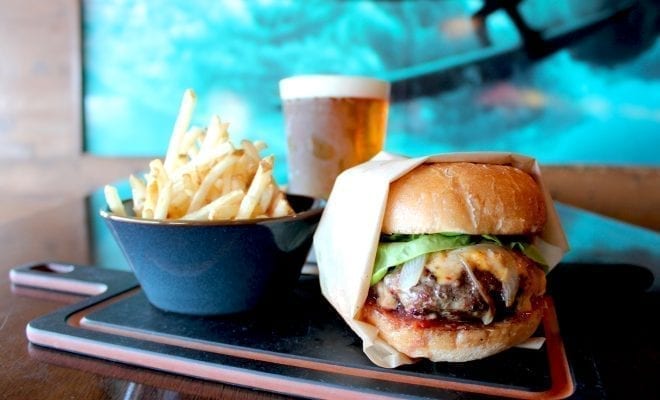 Dining
Delicious Burgers in San Diego
By
|
There's nothing quite like a good burger. No matter how you prefer your burgers, you can bet you can find one to match your preference in San Diego. Check out these top burger joints around San Diego you have to try out.

A true classic when it comes to burgers in San Diego, Rocky's Crown Pub is nothing but business when it comes to providing customers with delicious burgers. Simplistic in nature, you know you're going to get a delicious burger with all the classic fixings and more flavor than you'll know what to do with.
This small restaurant may be assuming from its appearance, but it is known for grilling up some seriously tasty burgers. Executed with simply yet refined precision, burgers here are served up with lettuce, tomato, American cheese, and a house aioli that really brings the meal together.
A laid back burger joint with an effortless beach vibe, Notorious Burgers knows a thing or two about making some delectable food. Each beef patty is seared and seasoned to perfection, then dressed up with a variety of sauces, toppings, and reductions depending on the selection you make. The Blackened Blue is one standout, smothered with apricot-onion jam, lemon-sriracha aioli, bacon, and a handful of crumbled bleu cheese.
First started as a small burger stand in 1973, Hodad's has since become a legend among burger joints in San Diego. The first thing you'll notice about Hodad's burgers is the fact that they are positively massive, and I mean that quite literally. A double-cheeseburger with all the toppings is nearly a half a foot tall. After nearly half a century in business, it shows that Hodad's has perfected the burger in every way.
This gastropub has an incredible burger menu that pairs beautifully with a killer craft beer selection. Some standout burgers include a monster burger made with 10-ounces of prime wagyu beef and melted gruyere cheese. Get in tune with the beach vibes of La Jolla with the Woody Hawaiian Burger, served with teriyaki sauce, melted havarti cheese, and a grilled pineapple ring adding a perfect sweet element.